Jimi Manuwa Looks To Remain Unbeaten At UFC Fight Night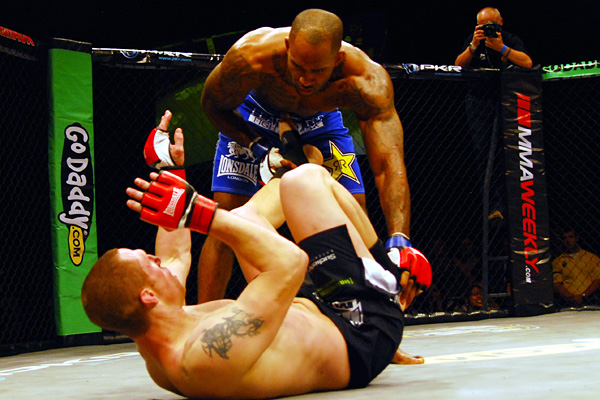 MANCHESTER, England — The UFC makes an appearance in England this Saturday with UFC Fight Night 30, headlined by Mark Munoz facing Lyoto Machida, who makes his middleweight debut. Much focus is on the main event, but one fighter on the main card enters Saturday undefeated and quietly becoming a master of finishing fights.
Jimi Manuwa (13-0), a pro since 2008, has fought twice in the UFC, making his debut at UFC on Fuel TV 5 September 29, 2012, earning a second round TKO against Kyle Kingsbury. In his second UFC fight, back at UFC on Fuel TV 7 in February, Manuwa earned another TKO in the first round over Cyrille Diabate. Both times, the fights had to be stopped by doctor's at the fight.
Manuwa's two TKO's in the UFC are just a small sample of his professional career. In his 13 fights, 12 have been finished by KO/TKO. His other fight was a submission victory over Jamie Hearn in the UCMMA. Along with finishing all of his fights, he has not fought in the third round in his career.
For Manuwa to remain unbeaten, he must find a way to get past Ryan Jimmo (18-2), who is coming off a unanimous decision victory over Igor Pokrajac at UFC 161 in June. While Manuwa is well known for his striking, Jimmo lands a higher percentage of strikes per fight (74%) than Manuwa (63%).
Both fighters look to climb the light heavyweight rankings, but an undefeated record would help Manuwa continue to climb up quickly and earn serious recognition from media and fight fans. Chris Weidman (10-0) used his unbeaten record to quickly become the new middleweight champion, while Khabib Nurmagomedov (21-0) is a serious growing contender in the lightweight division.
UFC Fight Night 30 takes place at Manchester Arena in England Saturday. Online preliminary fights begin at 12pm ET on Facebook. The main card, which includes Manuwa against Jimmo, is set for 3pm ET on Fox Sports 2,
Follow Brandon Boles on Twitter: @BrandonBoles
Facebook.com/FullScaleSports
Twitter: @FullScaleSport
(Photo Credit: Martin Rhodes)