JJP's Beating The Spread - NFL WK8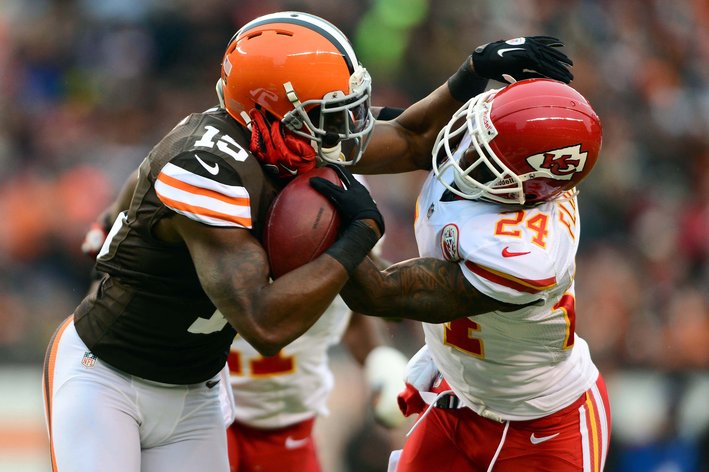 Your Week 8 Guide to Beating the Spread.
I'm not a professional and I don't claim to be.  Fact is, I'll never put in the time and effort to try and make a career out of professional gambling.  I do however, play the books often enough to know a few things about the "hobby".  Whether it be in Vegas or online books, I've wagered money on professional sports for about 12 years.  Through the years I've learned 3 important things.  1) NEVER bet with your heart 2) NEVER bet more than you can afford and 3) NEVER chase the dollars you have lost.  With these things in mind, let's dig into this weeks best match ups to play from my perspective.
*Lines may differ at time of bet and by book
Last week - 2-1 (Documented on twitter)

YTD - 6-6
Cleveland Browns at Kansas City Chiefs

10/27 1:00pm ET
Spread: Chiefs -7.5
I don't trust Jason Campbell to step in and get the Browns offense performing like Hoyer did, but he can't be much worse than Weeden.  the Chiefs are the superior team here and there's no reason to argue that.  A TD and a half is a large amount to lay though against a Browns defense that has done some pretty impressive things.  To help the Browns effort, the Chiefs aren't an offensive juggernaut and I don't expect them to be this weekend.  I think Cleveland can keep this one close enough on defense to cover.
JJP's Pick - Browns +7.5
 Buffalo Bills at New Orleans Saints

10/27 1:00pm ET
Spread: Saints  -11
What can i say other than the Bills have fought in every game and been great against every spread they've been given.  This one is a little harder to cap because of who they play, where they play and who is playing.  As of this article, Jimmy Graham is questionable, CJ Spiller is doubtful and Drew Brees is still Drew Brees.  Even for the Saints, 11 points is a lot to ask for from a team that barely squeaked by the Falcons, Bucs and Dolphins.  The Saints defense is definitely improved, but the Bills are averaging over 20 points ppg.  With that said, NO would need 32 to cover. Definitely doable, but I like the dog with points.
JJP's Pick - Bills +11
Atlanta Falcons at Arizona Cardinals

10/27 4:25pm EST
Spread: Cardinals -2.5
If this line isn't begging you to take the Falcons, I don't know what is.  The public is loaded on the Falcons and with good reason to.  Most bettors just see the names and think what a cake walk.  Sharps live for this stuff.  When a line looks to good to be true, it probably is.  Carson Palmer has a chance to keep his team in contention here and is given an opportunity to do so against one of the easier defenses to attack this season.  Sure, Matt Ryan has a lot of weapons, but he had those same ones in 4 losses this season.  Go with the home favorite, they only need a field goal.
JJP's Pick - Cards -2.5

Send your fantasy football questions to [email protected]
Follow Joshua Perry on Twitter @JoshuaPerry84
Facebook.com/FullScaleSports Twitter:@FullScaleSport
(Photo Credit: USA Today Sports)