Why Nuri Sahin Flopped in Spain and In England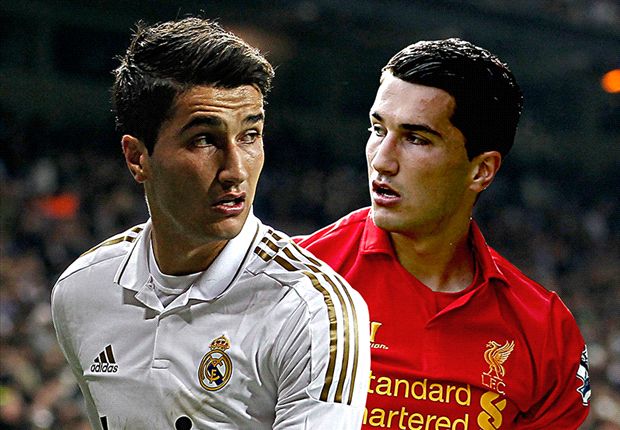 The comparisons were understandable. Born just over a month apart, each in Germany with Turkish roots, and impressing as youngsters in the Bundesliga in their formative years, Mesut Ozil and Nuri Sahin both left to join Real Madrid and subsequently moved to England. But while one enjoyed spectacular success in La Liga and is now blossoming in the Premier League, the other failed to hit the heights in Spain and England.
Both men were identified by Jose Mourinho as key components for the Portuguese at Real. Ozil settled quickly and connected instantly with fans at the Santiago Bernabeu and, in an era dominated by Pep Guardiola's brilliant Barcelona, Madrid now had a footballer who was a match technically for the midfield masters at Camp Nou.
Something similar was expected of Sahin. Nuri became the youngest player to appear in the Bundesliga as he made his debut at 16 years and 344 days in 2005 and, following a year-long loan at Feyenoord, later led Borussia Dortmund to the title in 2010-11 - at the tender age of 22. Sahin scored seven and assisted eight in BVB's success that season, yet his contribution was much more than that - he had pulled the strings in midfield for Jurgen Klopp's team and was voted Bundesliga Player of the Season.
A move to Madrid was his reward and the youngster was tipped for great things. "Sahin is going to become one of the best midfielders around in Europe over the next few years," Germany legend Paul Breitner said at the time. It sounded good - and it sounded plausible.
CONTRASTING FORTUNES IN SPAIN & ENGLAND
MESUT OZIL

At Real Madrid
(2010-2013)
At Arsenal
(2013- ) 159 games
(105 in Liga)
11 games (seven in EPL) 27 goals,
71 assists
Two goals, five assists
NURI SAHIN

At Real Madrid
(2011-2012)
At Liverpool
(2012) 10 games
(four in Liga)
12 games (seven in EPL) One goal, one assist
Three goals, three assists
But so far, so good quickly became too much, too young as Sahin struggled in Spain. While Ozil continued to impress in his second season at the Santiago Bernabeu, Nuri disappeared almost without trace.
The Turkey midfielder missed pre-season with a medial ligament injury and his recovery was a slow and arduous process. And when he eventually returned in November, Madrid were in full flow en route to winning La Liga in 2011-12. Mourinho's maximum intensity style seemed unsuited to a player who had missed months of preparation work and Nuri featured minimally.
Mourinho saw Sahin as an alternative to Xabi Alonso in midfield in Madrid's double pivot. The Portuguese believed pairing the two together would see the side lose some stability in defence - especially given Nuri's fragile fitness - but was also reluctant to rest Alonso in any Liga or Champions League fixtures.
Xabi's importance cannot be understated, with current coach Carlo Ancelotti still struggling to find a balance in midfield when the Basque is missing, as he has been for almost all of this season so far.
So Sahin was playing catch-up and even when he did start for Madrid in a Champions League quarter-final first leg against APOEL in March, Mourinho questioned his ability to face the top teams. "Turkey can decide whether he plays or not," he said. "But it is easier to play for a country than for a club like Real Madrid. We are in no mood for joking or giving playing time to players performing less than others. It will be difficult for Sahin."
It was. The German-born midfielder ended the season with a winner's medal but had featured only four times in La Liga and in 10 games overall for the Spanish side. By comparison, Ozil ended the campaign with over 50 appearances in all competitions and 17 assists in La Liga - a Primera Division high.
"On top of the competition in every position at Real, Nuri was unlucky to be injured from the beginning of the season until the autumn," former Madrid and Germany defender Christoph Metzelder told Goal. "And at a club like Real, nobody is waiting for a new signing who arrives in the team at that stage. So his conditions at the start were extremely difficult.
"There were already world-class players in his position. And if you are not able to get your playing time, be part of the process, show good performances and gain confidence and get the respect of your team-mates and the public, then it gets hard."
Ozil stayed and shone for another season at Madrid (and would probably still be at the club if Mourinho had remained in charge), but Sahin was forced to move on and a loan to Liverpool looked likely to revive his promising career following a stagnant season in Spain.
It was not be be, however, as Sahin failed to fulfil his early promise at Anfield and ended up making just 12 appearances for the Reds in the opening half of the 2012-13 season before returning to Dortmund on loan, complaining he had been misused by the Premier League outfit. And having hailed Brendan Rodgers on arrival at Anfield in the summer of 2012, the midfielder took a parting shot at the Liverpool boss as he left Merseyside in January.
I did not fail at Liverpool. Brendan Rodgers wanted me to play as a number 10. It's not my real position.
- Nuri Sahin earlier this year
"I did not fail at Liverpool," Sahin said. "Brendan Rodgers wanted me to play as a number 10. But I do not play behind the strikers. I talked to him and asked him why he was playing me there. It is not my real position. The coach could not answer me … Still, no regrets. To play at Anfield was a wonderful experience. And maybe if I had not gone there I would not have been able to return to Borussia Dortmund. For that, I am happy. Thank God I have left Brendan Rodgers."
Sahin is now rebuilding his reputation at Dortmund (still on loan but expected to return to BVB on a permanent basis) and is starting to look like the player Madrid bought in the summer of 2011, following fogettable spells at Real and Liverpool - where he never found his ideal position nor a regular starting spot amid fears he would fail to cope physically with the demands of the Premier League.
Ozil, meanwhile, has gone from strength to strength. Surprisingly sold by Real to Arsenal on deadline day (against the wishes of most madridistas), Mesut has slotted in seamlessly under Arsene Wenger in north London and has cemented his standing at international level with some peerless performances for Germany in the lead-up to next summer's World Cup in Brazil.
"Ozil is an outstanding football player," Metzelder said of his former international team-mate. "He has astonishing abilities and he is a player that makes the players around him better. That is something you don't see very often these days. There are many good players who look for the goal themselves, who want to score beautifully and who have great ratio. But there are few players who hold their head up and look for the player who is in a better position.
Ozil is an outstanding player. He has astonishing abilities. Nuri was unlucky to be injured at Real Madrid…
- Christoph Metzelder (ex-Germany)
"For example Olivier Giroud is benefiting big time right now from Mesut Ozil. That says a lot for Ozil and it looks like he is the missing piece at an Arsenal team that have sold their best players in recent years."
Two players with similar stories but very different fortunes in Spain and England now go head to head on Wednesday as Dortmund host Arsenal in the Champions League. And while Ozil continues to grow in stature away from home, Sahin is just happy to be back where it all began. What a difference two years can make.