Can P$G Win The UEFA Champions League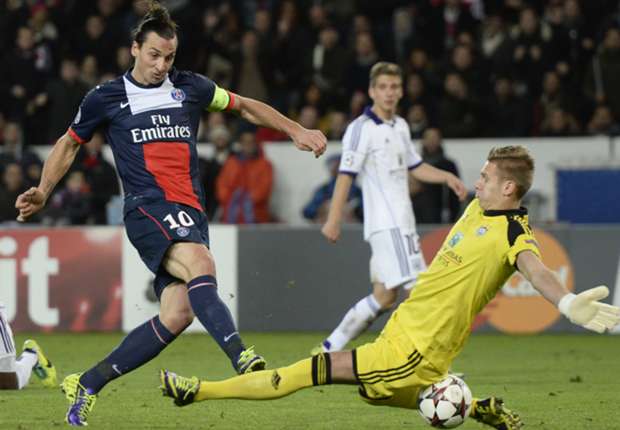 After thumping Group C whipping boys Anderlecht 5-0 a fortnight ago, PSG were expected to rack up another rugby score in the return fixture at Parc des Princes on Tuesday.
However, they missed their chance to clinch qualification to the Champions League knockouts and lay down a real marker to the rest of the competition.
PSG were in unstoppable form going into the game. After commencing the Ligue 1 season with two disappointing draws against Montpellier and Ajaccio, they had won 11 of their previous 13 games in all competitions.
Les Parisiens were still unbeaten, top of the French championship and a win over Anderlecht would have seen them through to the Champions League knockouts with two group matches to spare and a 100 per cent record.
But the home side failed to get out of second gear all evening and displayed a lethargy and slipshodness that regularly blighted European evenings under Laurent Blanc's predecessor Carlo Ancelotti.
Team
team played points
1. PSG 4 10
2. Olympiakos 4 7
3. Benfica 4 4
4. Anderlecht 4 1
Although PSG created more than enough chances to win the game, the tempo was slow and only the erratic Lucas supplied any width, while the crowd seemed more interested in heckling Croatian referee Mario Strahonja than cheering their side.
The failure to beat the youngest and possibly weakest team in the Champions League has raised questions over PSG's ability to go all the way this term.
Zlatan Ibrahimovic, who scored PSG's equaliser, rubbished talk of the significance of the setback.
"We have nothing to worry about. We have 10 points from four games. Win our next game, we qualify and win the group. Don't make a drama," he stated after the game.
The Swede is correct that it would be unwise to jump to conclusions after a game where PSG clearly underestimated their opponents and failed to give 100 per cent from the outset. Indeed if we judge the capital club over their form since the start of the season, only already-qualified champions Bayern can be considered undeniably superior right now.
PSG have yet to lose a game this term and individually and collectively they boast a squad full of quality and quantity. They can boast the number one defender in the world, Thiago Silva, midfield fan favourite Marco Verratti -who celebrated his 21st birthday on Tuesday - and arguably the best player in Europe so far this season in Ibrahimovic.
"For me, they are among the top five teams in Europe at least. They are ready to win the Champions League already," Anderlecht midfielder Massimo Bruno told Goal.
PSG defenders Maxwell and Marquinhos, also speaking to Goal in the aftermath of the match, were a little more cautious but both believe the Ligue 1 champions possess qualities that make them contenders.
"It is still early as it is only November and we need to focus on qualifying first, but we know our strengths. And in Ibrahimovic we have someone who can do things no one else in the world can do," said the former Barcelona left-back.
Marquinhos added: "If we keep playing and working as we have, and keep our heads screwed on, then we can go for the Champions League. But we must not get ahead of ourselves and must take things game by game."
Clearly there is a very real belief within the PSG camp that the club can be a serious player in the Champions League this season.
Perhaps not too much should be read into the failure to beat Anderlecht. In the words of Laurent Blanc it may even serve as a wake-up call that ensures PSG are at their very best for the remainder of the competition.