Blake crushes Howard's night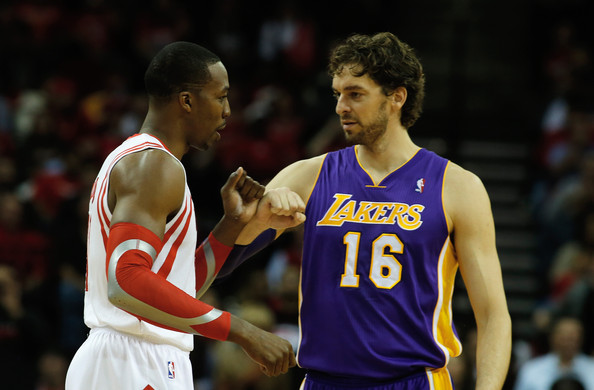 Houston, Texas— It was all set up for Dwight Howard to stick it to his former team with his Rockets in Houston as they were up 98-96 with 3.4 seconds left in the game.
Then Steve Blake nails the game-winning 3 ball with 1.3 seconds left to take a Lakers victory 99-98 ending Howard's chance at vengeance.
The Rockets climbed their way out of an early hole and found their selves up 97-91 with 2:40 left to go in the game.
But the Lakers who know their former all-star center, instituted the "Hack-a-Howard" game plan. Howard missed 5 of is last 6 free throws putting the Lakers back into the contest, before Blake took the game from the Rockets with his 3, he finished with 14 for the night.
Howard would finish with 15 points and 14 rebounds. Chandler Parsons finished with 16 points off of 6-11 shooting. James Harden led the way for the Rockets with 35 points and 5 assists in a losing effort.
Lakers stole one in Houston with a fairly balanced scoring attack, with 6 guys in double-digits. Jodie Meeks led the way with 18 shooting 5-7 from deep. Wesley Johnson added 16 points form 28 minutes of action. Steve Nash recorded 12 points and 6 assists. Nick Young and Jordan Farmar finished with 11 points each.
Lakers improve to 3-3 and travel to New Orleans to take on the Pelicans tomorrow night. While the Rocket fall to 4-2 and welcome their city mates the Clippers on Saturday.
Howard's next shot at his former team will be Wednesday, January 8. He makes his homecoming appearance at Staples Center Wednesday, February 9.
Follow me on twitter @jacksonshane3
Facebook.com/FullScaleSports
Twitter: @FullScaleSport
Photo Credit: (Scott Hallern/Getty Images North America)