#1 Alabama rolls over #13 LSU 38-17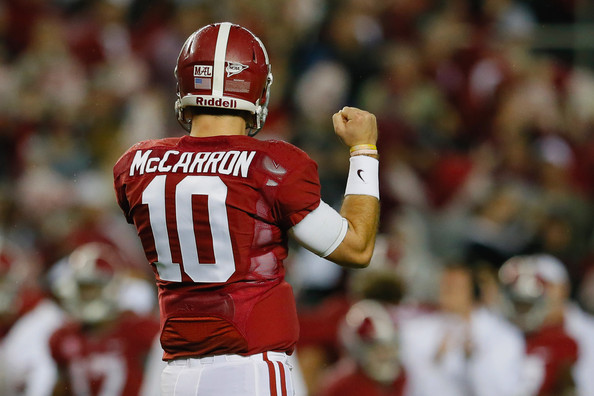 TUSCALOOSA, Ala.- Head coach Nick Saban called him the best quarterback in the country, because all he does is win.
A.J. McCarron did just that yet again, at #1 Alabama defeated #13 LSU, 38-17. McCarron, with girlfriend Katherine Webb and mother Dee Dee Bonner in attendance threw for 179 yards, on 14-20 attempts, and three touchdowns. It was a close game in the beginning, but LSU felt the burden of turnovers.
The Crimson Tide improved to 9-0 on the season, (6-0 in the SEC) and continue to steamroll any opponent they face. All the talk of McCarron, overshadows the play of running back TJ Yeldon who had 133 yards, and two touchdowns on 25 carries, while keeping the offense on a steady pace, and seizing control of this game.
LSU running back Jeremy Hill scored an early touchdown for the Tigers, but it was another running back, J.C. Copeland who fumbled on about the one-foot line in the first quarter, that led to the Tigers' demise.
Even more worrisome for the Tigers, as quarterback Zach Mettenberger injured his knee and limped off the field late in the fourth quarter following Alabama's fourth sack of the night.
The 38 points were the Crimson Tide's most over LSU since 1947 when they won 41-12.
With the win Alabama has firmly cemented themselves as the top team in the country, while Florida State will look to make a National Championship bid, to take on the Crimson Tide.
Last time Alabama went against a freshman, it was Johnny Manziel, and they handled their business. Is there a future matchup of Alabama and freshman standout Jameis Winston?
Heisman speculators view Winston and McCarron as the top candidates for the 2013 Heisman trophy.
Follow Mike Pendleton on Twitter @MP2310
Facebook.com/FullScaleSports Twitter:@FullScaleSport
Photo credit: (Kevin C. Cox/Getty Images)