Champions Classic: Kentucky vs. Michigan State, Duke vs. Kansas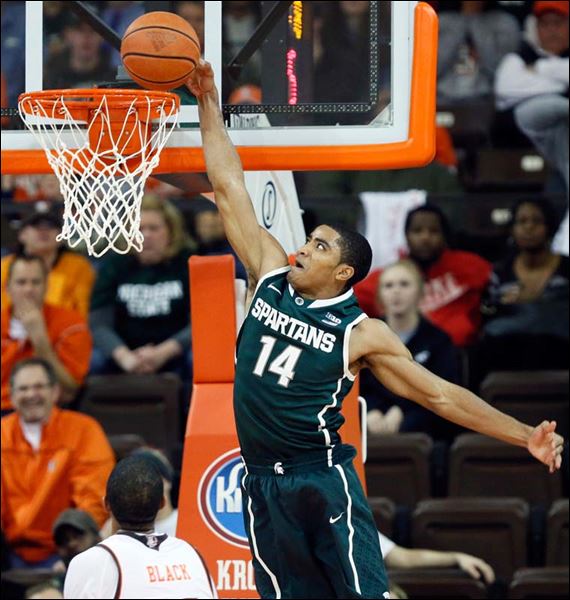 It's rare that college basketball fans get to see so many exciting games so early in the season. Competition this tough isn't witnessed until much later in the season, and sometimes not until the NCAA tournament. Taking part in tonight's Champions Classic in Chicago is no. 1 ranked Kentucky Wildcats and no. 2 ranked Michigan State Spartans.
Both Kentucky and Michigan State are coached by two of the best coaches in college basketball history, John Calipari and Tom Izzo. Calipari was busy during the off season recruiting incoming freshman. His team consists of five of the top ten freshman recruits of the 2013 season. The Spartans feature probable Big Ten Player of the Year, Gary Harris, and returning standout seniors Keith Appling and Adreian Payne.
Another notable game taking place tonight is no. 4 ranked Duke Blue Devils and no. 5 ranked Kansas Jayhawks. Duke, coached by the winningest coach of all time Mike Krzyzewski, will be led by freshman Jabari Parker. Parker was regarded as the number one recruit of the 2013 senior class out of Simeon High School, before he was sidelined for an injury. Playing in his hometown of Chicago tonight will only add to his confidence. Kansas will be led by Andrew Wiggins. Wiggins and Parker have been compared throughout their senior years of high school and the comparisons and rivalry have not commenced.
(Photo Credit: slamonline.com)

Tune in to ESPN tonight at 7:30 pm. (ET) and 10 pm (ET) to watch four of the top five teams battle it out.
Photo Credit: Blade/Jeremy Wadsworth
Follow me on Twitter @laurapeters24