Georges St-Pierre Takes Leave, Vacates UFC Title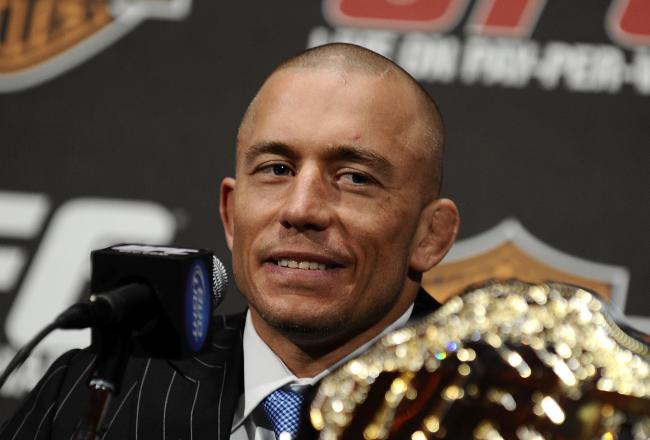 The UFC Welterweight Title is up for grabs again, less than a month after Georges St-Pierre retained the title with a controversial split-decision victory over Johny Hendricks at UFC 167 November 16. Announcing after his victory he was looking to take time off to handle some personal issues, St-Pierre held a press conference Friday to announce he was stepping away from the UFC for some time.
Despite his leave, St-Pierre never mentioned retirement in his press conference Friday, and acknowledged the door was open for a possible return to the UFC.
UFC President Dana White, who spoke in a conference call, said the personal issues St-Pierre was dealing with were effecting the champion.
"€œYou can tell by the way he talks that the issues he deals with outside the Octagon are driving him nuts," White said. "€œHe's obsessing about them and they'€™re driving him crazy."
With St-Pierre leaving the UFC, the welterweight title is now vacated. White said during his conference call Friday that Johny Hendricks (15-2) will fight Robbie Lawler (22-9, 1NC) for the title at UFC 171 March 15 in Arlington, Texas, and Jon Jones versus Glover Teixeira will move to UFC 172 the following month.
Both Hendricks and Lawler fought at UFC 167 last month. Lawler faced Rory MacDonald, who seemed to be next in line for a title shot in the welterweight division, but Lawler landed a significantly higher amount of strikes to earn the split decision win. Many people felt Hendricks defeated St-Pierre in the main event at UFC 167, but fell to a split decision to the champion.
After holding the UFC welterweight title for six years, it seems that St-Pierre, 32, has some issues to work out. Rumors have circulated about what is going on in his personal life, but he refused to give details about it. Now, the UFC's greatest welterweight champion so far may have enjoyed his last few weeks as champion in the sport.
Follow Brandon Boles on Twitter: @BrandonBoles
Facebook.com/FullScaleSports
Twitter: @FullScaleSport
(Photo Credit: Jeff Zelevansky/Getty Images)