Da Don's Verdict: Top 10 QBs Heading into the 2013 NFL Season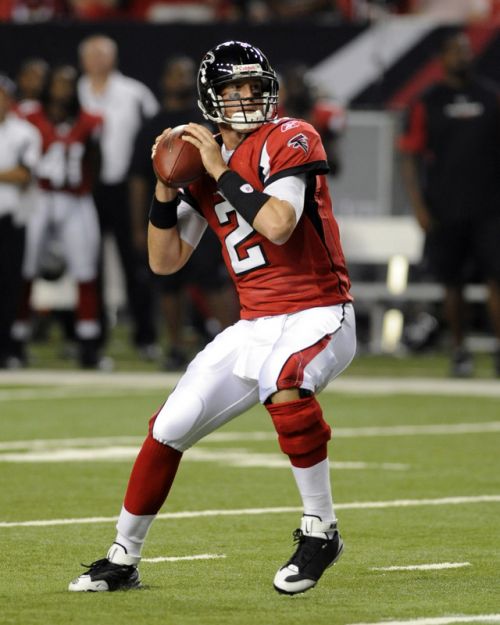 Everybody talks about who the best in the game and the one position that always brings out the most in the debate in the game today is the fabled QB position. This is not a countdown for the best of all-time; this is the best 10 QBs heading into the 2013 NFL season.
I've had arguments for years about who the best all-time and who the best have been in my generation. The scary thing some of the best QBs of my childhood are still dominating and many will be profiled on this list.
A franchise can be altered by the performance of the QB and these 10 are my best heading into the 2013 NFL Season.
10.          Andrew Luck                      Indianapolis Colts
The game I saw Andrew Luck play was an upset vs. USC but many never noticed him because of the Toby Gerhart mania craze. But when you take a program to a BCS game after being a doormat five years before must mean you're pretty special.
Andrew Luck did just that for the Colts after the pitiful 2012 season they had. With Chuck Pagano in chemotherapy for cancer, Andrew Luck took charge and became the clutch QB I thought he would be. He's at #10 because of his great potential but on top of the greatness he's already shown. Look for him to continue to grow.
9.            Ben Roethlisberger         Pittsburgh Steelers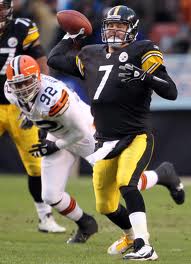 As a Ravens fan, I can personally say I hate the Pittsburgh Steelers but I've always admired Ben Roethlisberger's toughness and grit that he brings to the table every single week. With that being said there's a reason he's won two Super Bowls and been to another one where they lost to Green Bay.
Granted there have been injuries that have prevented him from being at his best. He still almost single-handedly led Pittsburgh to victory week to week. Ben still strikes fear in a defense, he can move around the pocket as good as anybody and find a receiver on a dime. He still has Heath Miller and Antonio Brown to throw to as well.
This is going to be a tough season for Pittsburgh but if all the pieces come together they may be able to compete in the AFC North this season.
8.            Colin Kaepernick              San Francisco 49ers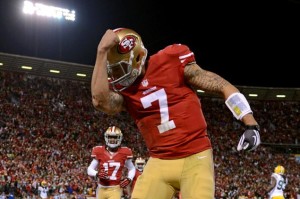 The QB of the Super Bowl runner up is at #8 and he had an impressive run didn't he? He took over for Alex Smith and flourished, he was the QB in NFL history with a rushing TD in the big game, and also led the 49ers to an almost classic comeback.
But it wasn't to be but regardless if many were told that the pistol QB from Nevada would be playing in a Super Bowl they may have thought that was impossible but it happened and Kaepernick has been embraced by many fans across the league.
He may not have Michael Crabtree for most of the season but he'll still have the team and the star power to lead them to another Super Bowl run. Watch out for the Revolution in San Fran.
7.            Russell Wilson                   Seattle Seahawks
Ok ok, I'm a fan of Russell Wilson but why shouldn't I be? Wilson led Seattle to the playoffs and had a nack of making the big play. He had to beat out Matt Flynn at this point last season and did just that and more.
You can say the offense goes around Marshawn Lynch and that's ok, every young QB has had a great and exceptional running game but Wilson has the "it" factor that is needed at the QB position. Wilson and the Seahawks should improve this season maybe even good enough for a #1 seed in the NFC.
This Wilson kid will be around for a very long time. His ability to scramble and his poise in the pocket gives Pete Carroll the man he wants behind center.
6.            Joe Flacco                            Baltimore Ravens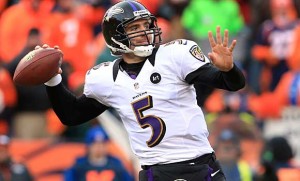 As a Ravens fan I'm not particularly fond of Flacco's regular season performance, but in the playoffs he becomes a different man and I wish he was more consistent.
After one of the best postseason performances beating four top 10 QBs in the league in the same postseason and a big contract, he's now the new face of the Ravens franchise.
But unlike many QBs given a big contract, he won't have to do it alone, he's got Ray Rice, Torrey Smith, Jacoby Jones, and even with Dennis Pitta injured they have Ed Dickson at TE, a guy who could sneak up on people.
He's at #6 for the reason that he's won more games than any other QB since 2008, and of course he wins in the postseason. If he can continue where he left off during the 2013 playoffs then Flacco may be the top dog rather quickly.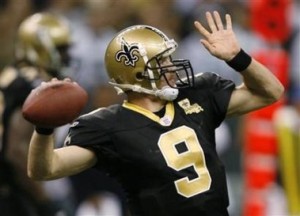 5.            Drew Brees                        New Orleans Saints
This is the lowest I've seen Brees be on a QB ranking done by me but he had a rough season last year. Without Sean Payton, the offense looked lost and with the lack of a running game it was all on Brees let alone the fact that the Saints defense couldn't stop the Little Giants.
Brees comes into this season with Marquez Colston, Jimmy Graham and a nucleus of guys that can score points in bunches and most of all they get their leader back in HC Sean Payton. 20 INT doesn't happen with Payton there at the helm I know that for certain but that's the reason that the teams that succeed are teams that excel in all areas of the game.
I applaud Coach Payton for the accountability he had last season for bounty-gate and this season the NFC South and the rest of the league will be in for a rude awakening as Payton had some time to see what the competition is doing.
Brees can still sling it and if the defense comes to be just average then the Saints will be in contention sooner rather than later.
4.            Peyton Manning              Denver Broncos
Broncos fans and Manning'ers will hate me but coming into this season Manning has faced some scrutiny after blowing the game vs. the eventual Super Bowl Champion Baltimore Ravens. Even more embarrassing is that Tim Tebow had won a playoff game for the Broncos the year before. That was a fluke but Manning isn't.
With the addition of Wes Welker the offense adds another dimension but I don't expect the Broncos to be a dominant team. First off they have no running game, two they have an old Champ Bailey and a bunch of below average players on defense since LB Von Miller may be suspended for 4 games and Elvis Dumervil left for the SB Champion Ravens.
It's like the Patriots and Manning's Colts, all offense no defense. I don't see Denver winning, but Manning will be an All-Pro and a division champion if KC can't stay healthy.
3.            Tom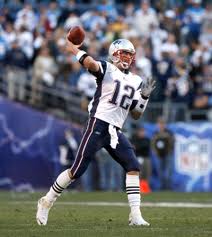 Brady                          New England Patriots
QBs are held to a high standard and over the last twelve years no one has played more consistently and more flawlessly than Tom Brady but this year provides him a different challenge than in past yrs.
The 36 year QB leads the team in Foxboro without 4 of his top 5 receivers from a year ago. Welker was a UFA, Lloyd was cut, Hernandez is in jail, and Danny Woodhead went to San Diego. Gronkowski remains but after some surgeries it's uncertain when he'll return.
Brady's legacy is unharmed but winning another Super Bowl in New England would cement one of the greatest careers the NFL has ever seen, his worst season was 9-7 in 2002. How many QBs have had 0 losing seasons in their careers? But in recent yrs his playoff record doesn't compare with his pre-2007 record but much can.
This season could be another great season for Brady or a sign of father time running its course but I don't expect not to see Brady playing in January.
2.            Aaron Rodgers                  Green Bay Packers
The alpha-male of modern day QBs as of now has come a long way since he was Brett Favre's backup in 2007. Rodgers has put up numbers that people thought could be seen in Madden and of course a Super Bowl victory makes everything that much sweeter.
Rodgers may have lost Greg Jennings and Donald Driver who have been playing for as long as Rodgers has been with Green Bay but the core they have now can still do a lot of damage.
Jordy Nelson, Randall Cobb, and Jermichael Finley are all capable enough to take over games and they'll need to be on a high level to stay on top of a defense that looks fierce as can be. Rodgers needs a defense that isn't a one trick pony they need effort that'll lead to turnovers and we all know Rodgers delivers big time as long as his offensive line can keep him upright.
1.            Matt Ryan                           Atlanta Falcons
I've been a fan of Matt Ryan since his sophomore year at Boston College and seeing Matty Ice make a comeback vs. Virginia Tech sealed the deal for me to see what level of greatness we were seeing and were going to continue to see on the NFL level.
Ryan has shown Falcons fans that life after Michael Vick has been better and much more consistent than Vick ever was. Now that he has a playoff win on his belt he can look to ultimately get the monkey off his back for good. They have to be one of the favorites in the NFC but Tampa, Seattle, and San Fran are some of the teams that can compete against the Falcons for a Super Bowl berth.
Ryan is my preseason MVP for 2013 with Roddy White, Julio Jones, Steven Jackson, and a returning Tony Gonzalez should all be motivated to win one for Blank, for Mike Smith, for Tony Gonzalez but most of all for Matty Ice and the Falcons fans who love their team. It's time for the 3rd pick in the 2008 Draft to flex his muscles.
Final Verdict:
Some will dispute but the verdict has been reached and remember that this is what I'm predicting for this season. Brady and Manning are first ballot HOFs when they retire that hasn't changed but this is simply the changing of the guard so to speak. The Pendulum swings and it's different for every generation and Wilson, Luck, and Griffin (not listed here) will take over the next generation of NFL QBs whether the old school fans like it or not.
Griffin was not listed here because I feel an ACL injury will change the way he plays forever and I had him at #11 so he was right there but Washington isn't the same team without him healthy plus I do feel Cousins is a serviceable QB.
Tweet at me @DaDonsVerdict anytime and of course tweet at @FullScaleSports and like the Facebook page and join the discussion. Criticism is accepted.