NBA Season Preview: Minnesota Timberwolves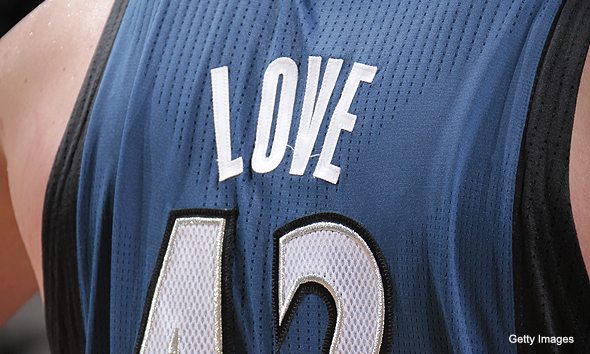 2012-2013 Record: 31-51, 5th in Northwest Division
Key additions: Kevin Martin, Shabazz Muhammad, Gorgui Dieng, Corey Brewer
Key losses: Andrei Kirelinko
Plain and simple, this season rides on Kevin Love. You can go on and on about how this team, in general, is very injury prone, but at the end of the day Love is the only player that really matters.
This is a young team that is filled with depth. The team boasts bench talents such as Alexey Shevd, Shabazz Muhammad, Derrick Williams, Gorgui Dieng, JJ Barea, etc. This team is not short of talent.
What this team needs is it's alpha wolf.
Love, the team captain for the Wolves, only appeared in 18 games last year. That's concerning for Timberwolves fans. While Love has yet to play a full season, 18 games is the least amount of games Love has played in his NBA career. But look at his numbers before he succumbed to injuries: 17.3 points per game, 12.2 rebounds, 1.9 assists and a .352 shooting percentage from beyond the arc.
It doesn't help when an all-star caliber talent like Love sits out for nearly the entire season. But last season is last season. Love has overcome his injuries. Now it's time for him to show the NBA that he's back and with a better supporting cast, he has the potential to make some noise.
He won't have to garnish all the double teams this year with the addition of Muhammad and new acquisition Kevin Martin. These two guys are primary scorers and they will be sure to cut to the basket and take attention away from Love. The addition of these two guys make Love a dangerous catch-and-shoot player from all spots on the court. Even in the post Love won't get all the attention with the emergence of center Nikola Pekovic. Pek averaged 16.8 points per game last year, showing his capability as a low post scorer.
Bottom line from that paragraph is that the Timberwolves are no longer one-dimensional. They are loaded with talent all around on both sides of the ball and they have the potential to produce two all-stars (Rubio's getting there. Key word potential).
At the end of the year, I see the Timberwolves battling division rival for the 8th and final playoff berth. I also see the Wolves winning that battle and barely making the playoffs next year. Stay tuned, because this is going to be one entertaining team to watch (as long as Love stays healthy).
Projected Starting Lineup
| Position | Player |
| --- | --- |
| Point Guard | Ricky Rubio |
| Shooting Guard | Kevin Martin |
| Small Forward | Corey Brewer |
| Power Forward | Kevin Love |
| Center | Nikola Pekovic |
Projected Bench Rotation
Interactive Whiteboards by PolyVision
| Position | Player |
| --- | --- |
| Point Guard | J.J. Barea |
| Shooting Guard | Alexey Shevd |
| Small Forward | Derrick Williams |
| Small Forward | Shabazz Muhammad |
| Small Forward | Dante Cunningham |
| Center | Gorgui Dieng |
| Center | Ronny Turiaf |
Staff Writer
Follow me on Twitter: @Mark_Kim_Sports
Photo Courtesy: Getty Images