NFL Fantasy Football Week 6 - Ride or Pine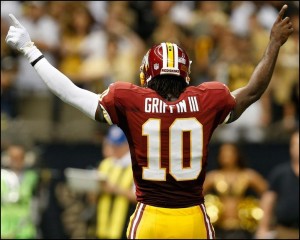 The Standard Intro
Week 6 of the NFL is set to kick off in less than 48 hours and the only thing missing is yet another fantasy advice column.  Be that as it may, I'll cover at least 5 guys who I think you should ride with and 5 who should be collecting blisters on the pine.  I'm not perfect, I'll surely have bad advice at times, but over 14 years of playing this game I've learned some things that will benefit you all along your path to the title.  So hang with me and send me your thoughts, I am always happy to lend an ear.  Important to note, this isn't a ranking of players.   This is strictly who I am high or low on for the week in play.

Week 5′s Biggest Ride - Denver WR's/TE

Week 5′s Biggest Pine- DeMarco Murray (Although a TD saved his otherwise bad day)

Week 5′s Biggest Whiffs - Cam Newton

Ride em'
RG III, WSH QB - Did you see what Peyton just did against the Cowboys defense?  No, Griffin isn't Manning, but he's slowly getting his groove back (Stella) and with a bye week under his belt, how can you not like him?  Maybe Jerry Jones will use his cool flip phone to call Kiffin and dial-up a blitz or two, but even then this defense is still going to give up points.
Jay Cutler, CHI QB - Smokin' Jay's Bears have struggled the last 2 weeks in reality, but in fantasy the guy deserves a cigar.  Back to back 300+ yards days with multiple scores each game.  Unless your league takes away 6 points for an interception, Cutler has been on fantasy fire.  This week he gets a chicken with its head cut off with the 30th ranked defense against opposing QB's.
Willis McGahee, CLE RB - I already regret typing his name here, I really do.  The Lions pass rush is so dangerous though that when you think about Weeden standing in the pocket to pass, it makes too much sense to run.  He's clearly the guy in the backfield and if the Browns plan to use Cameron and Gordon, they need to run to keep that Lion front 7 honest.
Doug Martin, TB RB - The Eagles are all of a sudden ranked 16th against fantasy RB's.  Fact: They played the Giants last week, who lost their only weapon with a neck injury. Fact:  The only other team they held under 100 yards rushing was Washington in week 1 and that's because the score was 987 to 0 by halftime.  The muscle hamster will be relied upon with the rookie signal caller and the Eagles run defense isn't as good as advertised.
Justin Blackmon / Cecil Shorts ,  JAC WR - Whats 400 yards plus 4 touchdowns equal?  A desperation need to pass in order to  cover the spread.
Steve Smith, CAR WR - Talk about mediocrity since week 1, heck it doesn't even deserve to be called mediocre.  This is the week Smith owners will rejoice for being patient.  How do I know?  Easy, the Viking have allowed an average of 201 yards to opposing receivers.
Jermichael Finley, GB TE - Is there a harder TE to forecast production for?  I think last week was a throw away after missing week 3 and having the bye.  The rust is off and the Ravens defense is allowing TE's to get loose, it's just up to Rodgers to find him.
Eagles D/ST -  They can be a sneaky filler this week if you are looking for upside.  Glennon's pocket presence is anything but a strong point.  Sacks and an INT or 2 is totally possible.
Pine em'
Joe Flacco, BAL QB - The Packers are ranked 25th against fantasy QB's, but that is the only positive for Flacco heading into Sunday.   The ravens learned from past mistakes and ran against the Dolphins, which in turn lead to a win.  With Clay Matthews out, expect more of the same against a Ravens team that needs to put together a couple W's before a big showdown with division rival Pit.

Giovani Bernard / BGE, CIN RB - Since opening the season as one of the worst run defenses, Buffalo has quietly turned the ship around.  They have allowed 52 yards per game over the last 2 and on the season have only allowed 1 rushing TD.  The Bills weakness has been a depleted secondary which will most likely be taken advantage of through the air with Green, Gresham and Eifert, not Bernard and Green-Ellis.  (Bernard is the more viable option in PPR leagues)
Le'Veon Bell, PIT RB - Impressive first outing for the rookie a couple of weeks ago, but this week will provide to be a much tougher test.  The Jets defense is as consistent as ever and as always, the first priority for Ryan is shutting down the run.
Tavon Austin, STL WR -  If you are waiting for the rookie to break on the scene, don't believe this will be the week.  It's bad enough that the Rams can't figure out how to use him, but now he gets a really good secondary against opposing fantasy WR's.  Leave Austin benched until you witness Bradford looking for the kid.
Jared Cook, STL TE - I quit you.
(Photo Credit: Getty )
Send your fantasy football questions to [email protected] or tweet them for Thursday Mailbags.
Follow Joshua Perry on Twitter @JoshuaPerry84
Facebook.com/FullScaleSports Twitter:@FullScaleSport