Bears defense picks off Eli three times; Giants remain winless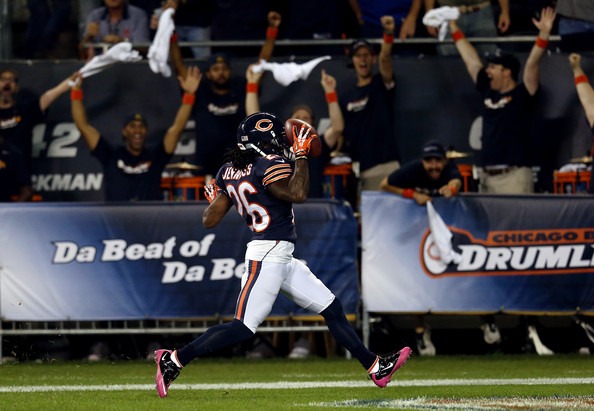 CHICAGO- Brandon Marshall spoke up, and the Bears listened, and responded. Quarterback Jay Cutler found Marshall for two touchdowns, as he finished with 9 catches for 87 yards as the Bears defeated the Giants 27-21. Cutler, had another winning performance in which he kept his team in control and held great pace, going 24-36 for 262 yards and did not throw an interception.
Interceptions were yet again, the name of the game for Giants quarterback Eli Manning who had three tonight, bringing his season total to 15. Manning started the game with two first-quarter interceptions, one of which was returned for a touchdown by cornerback Tim Jennings who had two on the night.
With the loss the Giants fell to 0-6 on the season, but not all was ugly, as running back Brandon Jacobs looked like his old self. Filling in for the injured David Wilson, the 31-year-old Jacobs, rushed for 106 yards on 22 caries, and added two touchdowns. This is the first time since 1976 that the Giants have started their season 0-6.
While the Bears defense were without cornerback Charles Tillman and defensive tackle Stephen Paea, they were up to their usual tricks, forcing three takeaways. Filling in place for Paea at the defensive tackle was Corey Wootton, who is normally played at defensive end, and the former New Jersey high school football player was able to bring pressure from that position, something that had been missing all season.
The other key for the Bears, the offensive line, did not allow a sack on Cutler. Both teams will not get a longer period of rest, as the Bears (4-2) prepare for the Washington Redskins and the Giants will ready themselves for the Minnesota Vikings.
A humiliating start to the 2013 season for the Giants, one most certainly everyone would like to forget, must get corrected by quick changes whether it be player personnel or the coaching staff.
As for the Bears, the word consistency may get thrown around a lot, as they shouldn't have had any struggles with defeating this team, yet that wasn't the case. Either way, the Bears sit atop their division, and the Giants find themselves sitting at the bottom of a very dark, and deep hole.
Follow Mike Pendleton on Twitter @MP2310
Photo credit: (Jonathan Daniel/Getty Images)
Facebook.com/FullScaleSports Twitter:@FullScaleSport