Report: Bears LB D.J. Williams out for season with pectoral injury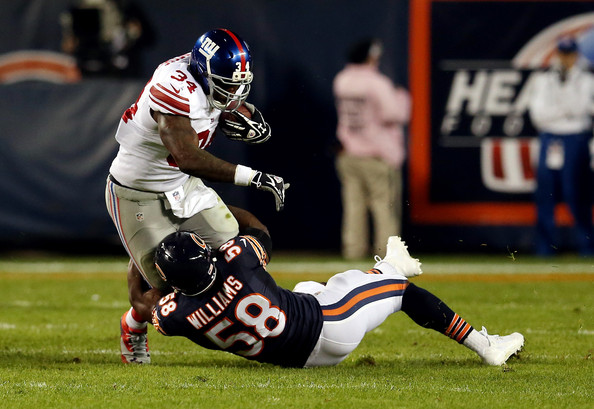 CHICAGO- The injury bug continues to bite the Chicago Bears defense in a very bad way. The Bears defeated the New York Giants on Thursday Night Football, but lost linebacker D.J. Williams. According to reports, Williams is out for the season after suffering a torn pectoral in the third quarter.
Williams now joins Henry Melton and Nate Collins as defenders who have been lost for the season, as defensive coordinator  Mel Tucker faces adversity yet again. This has not been the first injury for Williams who missed a majority of the preseason due to a calf injury, yet was able to beat out rookie Jon Bostic for the starting job.
Williams signed a one-year $1.75-million deal in the off-season to replace the retired great Brian Urlacher. Through six weeks, Williams, 31, had 27 tackles, two sacks, and one forced fumble.
Rookie Jon Bostic will now take over for Williams at the middle linebacker spot. Bostic was a second-round pick in the 2013 NFL draft out of Florida. The rookie did get the notice of veteran Lance Briggs who said:
"Bostic did well [replacing Williams]. He got in, got his nose in it and found out that some of the stuff that we see in practice and the preseason is a little bit different on the field," Briggs said. "But Bostic's gonna be big next week." (ESPN.com)
Fellow linebacker James Anderson did suffer an injury himself, but is not expected to miss any time, which is good news for Lance Briggs who says he doesn't want "any more injuries".
Follow Mike Pendleton on Twitter @MP2310
Facebook.com/FullScaleSports Twitter:@FullScaleSport
Photo credit: (Jonathan Daniel/Getty Images)