Should The Number 3 Return to NASCAR?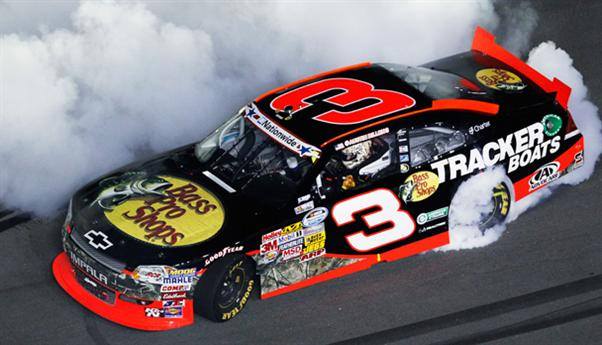 The number 3 has not run in NASCAR's premier division since the final turn of the 2001 Daytona 500. Next year Austin Dillon the grandson of car owner Richard Childress will make the leap to the Sprint Cup Series. Dillon who has run the famous styled number 3 that was made into fame by seven time NASCAR champion Dale Earnhardt, has run the number 3 in the Camping World Truck Series as well as the nationwide series respectfully. Next year it's expected that Dillon will jump into the Sprint Cup Series and use the famous Number 3 for the first time since that fateful day.
Normally I would say that the number should be retired for good, but Dillon is a true proven champion. Having won the Truck series championship and in a battle for the championship in 2013 with fellow racer Sam Hornish Jr. Is it the right time to bring the number 3 back into cup? While Dillon is a proven champion, a jump into the Sprint cup series with the number 3 will not come without some controversy.
From those saying only an Earnhardt should drive the car, others saying it should be retired for good. Then look at Richard Petty, The number 43 has not won since John Andretti last took it to victory lane and that was back in 1999 at Bristol. The car that brought 7 championships to Richard Petty is no longer competitive with the likes of Hendrick, Penske or, Roush Fenway. But there is a love for the number that fans cannot get enough of. Seeing that famous number 43 on the grid of a NASCAR race just makes sense. Maybe it's nostalgia for some fans or maybe they want to see that number in Victory lane just once more.
You could make an argument that the Number 3 shouldn't be run. But think about all the revenue it could bring in for the Childress team. A revitalized Richard Childress team going for another championship with a Rookie driver behind the wheel of the number 3. Maybe the number 3 should be in a different font like when Richard Childress drove the number or Ricky Rudd. No matter how you look at it there are those loyal to Earnhardt even now who will forever want the Black number 3 to be retired for good.
The number 3 will never be the same without an Earnhardt behind the wheel but then again neither will the number 43 without a Petty or the number 11 without Junior Johnson, but the truth is NASCAR will go on. The number 3 will live on forever. This should be considered an exciting time in NASCAR. To see the black number 3 in victory lane with a trophy just one more time.