Pomminville scores game winner in return to Buffalo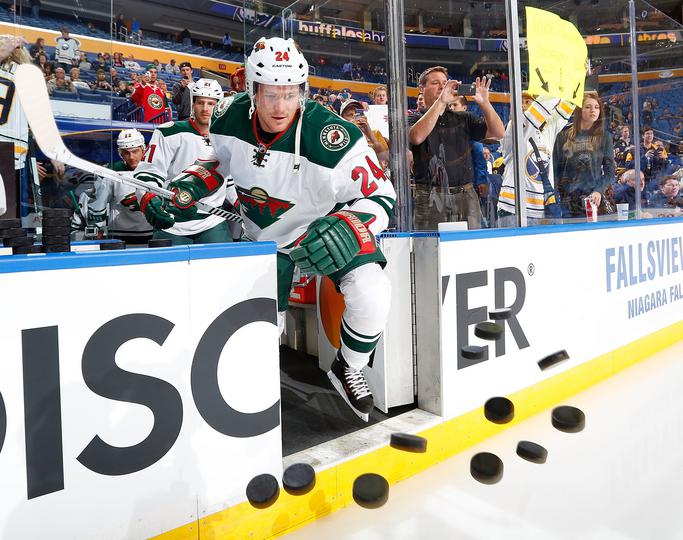 BUFFALO — The Buffalo Sabres woes continue as they lost again to the Minnesota Wild 2-1 on Monday night. The losing streak is now at seven games with a record of 0-6-1 and only having one point. They have only managed to score seven goals while they have 11 goals against.
Former Sabres captain Jason Pomminville made his return against his former team, the Sabres traded him last year to the Wild during the trade deadline. Pomminville delievered to as he scored the game-winning goal at the end of the second period to give the Wild the win. That win gives the Wild a three game winning streak.
Pomminville came streaking down the ride side, cut in and fired a shot off goalie Jhonas Enroth's shoulder and into the net. Pomminville has now scored against every NHL team. As you would think he was happy that he could help the team get a victory.
"Good way to finish it for sure," Pominville said. "Just so many good memories in this building and in this city and everything so it was nice to be able to get one and win it on top of that, so it was good."
Kyle Brodziak scored his first goal of the season to open up scoring in the first period. Brodziak was trailing late in the offensive zone and Matt Cooke gave him a nice pass and Brodziak fired from the top of the circle and beat Buffalo goaltender Jhonas Enroth five hole. Enroth looked to be screened by defenseman Mike Weber.
Pomminville's goal was textbook as the unit strung together a couple nice passes that eventually led to the goal, coach Mike Yeo was impressed on that play an another goal as well.
"They were nice goals off the rush," Yeo said. "I mean, one was a power-play goal, but tic-tac-toe … that was some precise passing and a great finish."
Buffalo has failed to score first in any of its first seven game this season and has held only one lead that lasted 2:26 against the Tampa Bay Lightning.
Buffalo would answer back though after being down. After the beginning of the second period was delayed due to the lights not turning on, Brian Flynn scored his first goal of the season to tie the game at one.
Flynn and teammates  Zemgus Girgensons and Mikhail Grigorenko came down on a 3-on-2 rush with Flynn joining late. Girgensons came down the left wing boards and gained the Wild zone and delayed just enough to make a pass to the streaking Flynn who shot and banged home his own rebound for the goal.
Buffalo's third line played a solid game and coach Ron Rolston agrees.
"I thought that line helped us tonight," Rolston said. "I thought that line was good, especially [Flynn] and [Girgensons] on that line had a lot of energy tonight so they actually helped create on that line. But we're still not getting a lot of contributions from other guys. We certainly need our top-six to step up at the end of the day."
The tie was eventually broken when Pomminville scored the game winner. Enroth made 18 saves in the loss.
Buffalo heads to New York to face the Islanders tonight as they look to break their now seven-game winless streak. The Wild visit Toronto on Tuesday night, looking to extend their three-game winning streak. Yeo knows it won't be easy against the Maple Leafs, who have won five of their first six games.
"We're going in to play a team tomorrow that's obviously been very hot and we can get a big dose of reality if we don't make sure we're ready to play the game," Yeo said. "We recognize that this was a good win and we did a lot of good things, but we feel we have another level and we'll have to bring it [on Tuesday]."
Photo Credit: NHL-Getty Images