2014 NFL Mock Draft Mid-Season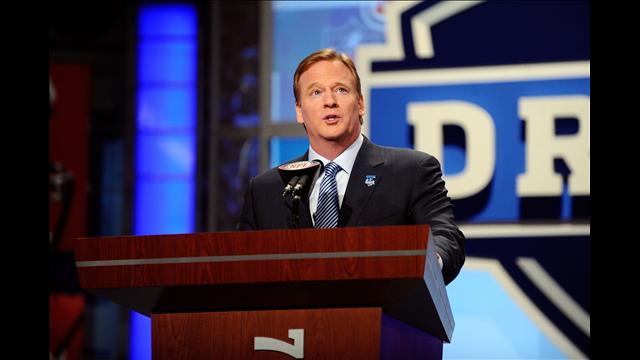 Da Don's Verdict heads back to the Draft again, this time a scenario is tried. What would the draft look like if it were today, records standing, and what we've seen in the college game is what we have to work with.
There truly isn't a team that has taken the stand of being an elite team right now. The Cheifs are undefeated and the Falcons are likely to have a top 6 pick? It's been a weird season so far. With that "Da Don" always thinks of the future, a solid plan for the future is great business.
As for the draft as I wrote on the QBs, there will be many drafted and possibly six in the 1st round. But most of all this draft could take a turn because there's a lot talent at the skill positions and some top strength on the d line. Let's start predicting the unpredictable future
1. Buccaneers: Anthony Barr OLB UCLA
I'm completely crazy here in having Barr over Clowney but they have Clayborn and McCoy down there. Most of all they need to pressure the QB better for these great defensive backs. They could use Jake Matthews and JaDeveon Clowney but to have a pass rushing LB like Barr would be the X factor Denver has in Von Miller. In addition I firmly believe Schiano will be fired.


2. Jaguars: Teddy Bridgewater QB Louisville
Bridgewater is the 2nd best QB prospect I've seen in my time analyzing the NFL Draft dating back to 2004. Bridgewater would be the guy who can take Jacksonville back to relevance. Imagine Cecil Shorts, Justin Blackmon and another RB assuming Jones-Drew leaves. Plus it's not like they could be any worse off at QB.


3. Vikings: Marcus Mariota QB Oregon
I've seen him play this season and I'm sold on this guy as a 1st round pick, he has mobility, arm strength and the ability to look guys off to open up his recievers a bit more. Minnesota's QB situation is awful, pitiful and a bunch of other bad words. But Mariota will be a guy who needs to eased in. But with AP and another pick from Seattle, the offense could be cured up a bit.


4. Steelers: Jake Matthews OT Texas AM
Pittsburgh needs to finally realize their team is old and needs a slight overhaul, and the first step is to draft a LT to protect Roethlisberger and help boost that running game. Matthews would be a snag with this pick. A son of a HOF OL Bruce Matthews, need I say more.


5. Falcons: Jadeveon Clowney DE South Carolina
Clowney is too good to be at this spot. The Falcons do miss Abraham dearly.  In my eyes it's a perfect fit of unfairly criticized teams that have suffered circumstance. To see him fall to #5 is a bit of a sin but teams have other needs and the QBs will be going thru like crazy. The Falcons benefit from this great with this scenario although the season they've had is a complete disaster.


6. Giants: Taylor Lewan OT Michigan
The Giants just missed on Matthews and Clowney but Lewan is no slouch. Lewan is the guy who's in a spot previously played by Jake Long and Jon Jansen two solid LTs although Jansen moved to the right side with the Redskins. This allows Pugh to play G and a Giants line capable of maybe protecting Eli Manning into his mid-30′s. The video below is Lewan vs. Clowney… Enjoy


7. Texans: HaHa Clinton-Dix S Alabama
Yes WR maybe a better position to upgrade but with Hopkins, Johnson, Daniels and Graham at WR/TE they dont need that now, a S would be better. Ed Reed is not what he once was, and most of all S play killed them in the playoffs vs. the Patriots. Clinton-Dix is an all-around skilled S, even with the suspension I'm sure Wade Phillips would appreciate his skill set there a true center-fielder.


8. Rams: Mike Evans WR Texas AM
This is a WR listed at 6'5 235lbs, megatron stature. With that being said this redshirt sophomore. Whether Sam Bradford comes back is another question back, I say he does. Evans gives him a true threat to move the chains, Jeff Fisher will love this guy. Bradford has never had a WR like this, not even at Oklahoma. Did I also mention he can block too, I mean Manziel is his QB and he was the go to guy for him.


9. Bills: C.J. Mosley OLB Alabama
Another year, another Alabama LB, the difference is simple. Mosley can move sideline to sideline and most notbaly he can pursuit and lead a defense, They need a leader down the road in the LB core with Kiko Alonso. Both are versatile and can play together in the nickel, perfect for New England, Indy and Denver for the short term.


10. Ravens: Sammy Watkins WR Clemson
The Ravens have learned Flacco isnt Tom Brady, Peyton Manning, or Drew Brees, hooray! Now back to reality, put Sammy Watkins opposite of Smith and Marlon Brown and this core could explode again like the playoffs. Flacco looks to go deep and Smith can do that with Watkins in the intermediate game.


11. Raiders: Cyrus Kouandjio OT Alabama
Kouandijo is the last of the NC lineman from 2012, this guy can play RT opposite of Jared Veldeer coming off an injury to protect Terelle Pryor, They could use WR but why not build the backfield you have there and address the defense later on in round 2. The Raiders may have more yards by protecting Pryor and McFadden.


12. Rams: Khalil Mack OLB Buffalo
Mack is another Jeff Fisher kind of guy. He's athletic, versatile, sort of old school and most of all aggressive. The Buffalo Bull has caught some eyes in the MAC conference in the past couple of years. His motor is relentless and will be his greatest asset. Put him with Laurinitis and the run defense will match the pass rush, then the secondary will improve.


13. Eagles: Ifo Ekpre-Olomu CB Oregon
Olomu used to play for Kelly at Oregon and they can use some CBs on their roster, Williams, Fletcher and Boykin arent good enough or durable enough as a CB core for the NFC East as Dez Bryant and Victor Cruz man that division. Olomu has been the best CB in the Pac-12 for two years. A potential shutdown corner.


14. Browns: Johnny Manziel QB Texas AM
As if Cleveland's season can get any weirder, first they trade Richardson then they're 4-5 and they can still end up with Manziel. Manziel could be the final face of the new rushmore of Cleveland sports. The Heisman trophy winner will love to throw it up to Josh Gordon and Jordan Cameron, all he needs is a RB. That game vs. Alabama last year will remain my reason to believe in him. Call him Ben Roethlisberger in jumbo size.


15. Chargers: Louis Nix III NT Notre Dame
Remember Jamal Williams in San Diego? I do and he was a force. A great draft class in hindsight a yr ago in their first three picks (Fluker, T'eo, and Allen) now they can pick that up with a guy who's fallen here with Nix. Great year for UND a year ago and hasn't had much drop-off.


16. Cardinals: Derek Carr QB Fresno State
Here's a name that'll emerge come Combine time. The brother of David Carr but the difference is consistency and better poise. This guy could learn well behind Palmer. Definitely worth the 16th pick, the offensive line could use help at the Gs but they'll have Cooper back next yr. and possibly a LT too. But I can't trust Palmer at QB long term.


17. Dolphins: Antonio Richardson OT Tennessee
All the turmoil on the offensive line with Martin and Incognito in addition to all of the sacks given up this season, they have no choice but to go Richardson in this scenario. They shouldn't have let Jake Long go, simply put. Richardson needs work in the bull rush but it's a start, he did protect Tyler Bray well last year also.


18. Titans: Marqise Lee WR USC
Kenny Britt is going to leave the team and so be it, Britt is nothing but trouble. Lee is a more of a slot reciever but can play outside as well. Not as good as the past two yrs. with Barkley but Jake Locker has the arm to put Lee in position to succeed. An explosive WR who can turn a five yard catch into a touchdown that can change the game.


19. Bears: Ryan Shazier OLB Ohio State
The injury of Lance Briggs hurts them dearly, the loss of Urlacher has in terms of leadership but they're still a solid defense. Shazier is a stud LB who isnt the ideal size for a LB but for the system they have he's so fast. He can play the Cover 2 in terms of quicknesss also. One of the leaders in the Buckeye defense for Urban Meyer. He also attacks the ball, perfect to continue the "Monsters of the Midway" montra.


20. Packers: Kyle Van Noy OLB BYU
The Packers miss Erik Walden and with the injury to Clay Matthews has hurt them in terms of pass rushing. Not to say Nick Perry hasn't played well, but he's hurt too. Depth is something there. Van Noy and Ansah were a great tandum a year ago and now Van Noy is feeding off BYU's success to the NFL.


21. Jets: Austin Seferian-Jenkins TE Washington
He's my top TE in this upcoming draft and the Jets could use some help in the passing game. Jenkins has been Keith Price's security blanket for three years and now can help Geno Smith out in overtaking the dynasty in Foxboro. Jenkins has some Gronk/Graham type talent at TE, definitely better than Dustin Keller.


22. Cowboys: Lamarcus Joyner S Florida State
The Cowboys need to help out their corners, the safety position would be part of the answer. Joyner took the Clemson game by shutting down part of the field from Tajh Boyd, plus some say he's on the level of LeRoy Butler in FSU history wise. Not sure about that entrely but Jerry Jones may have the nudge to get him with his athleticism. Like any FSU DB he can return kickoffs too, how ironic.


23. Panthers: Bradley Roby CB Ohio State
The Panthers need to cut it out and get a WR opposite of Steve Smith that can actually be a threat but Ohio State's Bradley Roby is a CB who can play in the slot or the outside, playing the Saints and the Falcons every year make this neccessity. Roby is the true playmaker they haven't had in the secondary since the prime of Chris Gamble.


24. Lions: Loucheiz Purifoy CB Florida
The Lions drafted Darius Slay a year ago and he'll need time to develop but Reshean Mathis probably won't be around next year. Purifoy is a physical corner at 6′ 190lbs but it's the same style that Janoris Jenkins with except all the character issues. Best of all he's a team guy someone Detriot will embrace right away.


25. Bengals: Jason Verrett CB TCU
Three CBs in a row but with Leon Hall out for the year, Newman and Jones aging it's a dire need to address. Verrett is a Gary Patterson guy, discipline, fundamentally sound and a player of example.  Verrett's perfect for Mike Zimmer who can have him mentored by Terrance Newman and Leon Hall. May even be a kid who makes the move to safety in the NFL level like Troy Vincent and Devin McCourty have.


26. Browns: Jordan Matthews WR Vanderbilt
Vandy's Jordan Matthews with Josh Gordon and Greg Little almost doesn't seem fair! Cleveland would need a RB but that's a first round position this year. Overall Matthews is 6'3″ and runs a 4.56 roughly. But he has an edge to him like Colston, Roddy White, Boldin etc. Manziel would love this team already.


27. Saints: Stephon Tuitt DT Notre Dame
Another Notre Dame run-stuffer and NO could use, particularly after the New England and Jets games. Tuitt is a big body that can play at DE and shed some blocks to open up for the LBs they have. Plus the Saints need to help Cameron Jordan out a bit. Mark May can say he's overrated but can't expect a Pitt guy to give credit to Notre Dame.


28. 49ers: Timmy Jernigan DT Florida State
The 49ers have it made getting Jernigan here for now I believe this guy is an absolute stud and a potential top 10 pick. The Clemson game this year is a great example of what he does on the line of scrimmage. Justin Smith will need someone to replace him soon. More Florida St. D-Lineman in the NFL just what the doctor ordered.


29. Patriots: Eric Ebron TE North Carolina
Patriots fans remember Aaron Hernandez? I do in spurts but Ebron is bigger and badder than Hernandez ever was. Even at his best he had injuries and key drops. Ebron is 6'4 a true physical presence and had a big game vs. Miami a few weeks back. Not too shabby for another New England TE from Coates to Watson to Gronk and maybe Ebron.


30. Broncos: Ra'Shede Hageman DT Minnesota
The Big Ten's Top DT falls to 30th because of all the skill positions out there and not a bad thing when you have emerging Derek Wolfe beside you. Hageman is a big man who could open more space for Von Miller and Woodyard if he resigns come year's end. An ideal 4-3 DT, he can handle double teams like a John Henderson could.


31. Seahawks: Allen Robinson WR Penn State
The Seahawks need some explosion and that'll come with Percy Harvin. The next thing on offense is a consistent pass-catcher. Robinson is that guy. Pair him with Tate and Baldwin and those guys can interchange on the outside with Harvin as the guy who's the mismatch. It's almost pure genius.


32. Chiefs: Jace Amaro TE Texas Tech
Talk about a guy who has exploded this season, Amaro has living up to the hype given to him when he arrived in Lubbock. Alex Smith did wonders with Vernon Davis while in San Francisco, and Amaro can give them a vertical threat in the redzone other than Dwayne Bowe. Amaro has had some off the field stuff but nothing really problematic. But at least he can run block unlike Jimmy Graham or Aaron Hernandez.

Photo Courtesy: AP
Follow me on Twitter: @DaDonsVerdict and @FullScaleSport
The discussion has only begun.