Flordia Panthers Fire Kevin Dineen Amid Losing Streak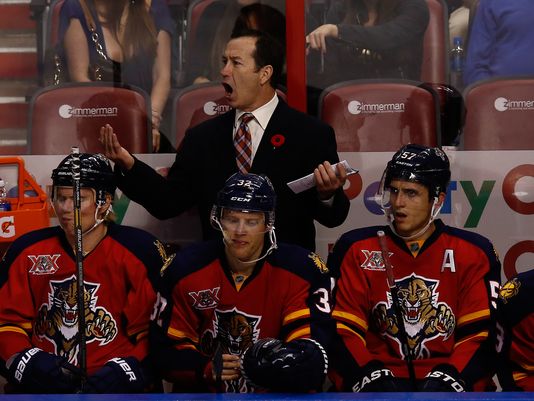 SUNRISE, Fla. — After losing to the Boston Bruins 4-1 Thursday night and extending their losing streak to seven games, the Florida Panthers announced Friday that head coach Kevin Dineen, along with other assistant coaches, had been fired. Peter Horachek, who had been serving as the bench boss for the Panthers' American Hockey League affiliate San Antonio Rampage, was named the interim head coach for the Panthers.
Dineen compiled a 56-62-8 record in a little more than two years as Panthers head coach. After Florida captured a Southeast Division title in his first season, the Panthers finished last in the NHL during last year's lockout-shortened season. The Panthers have failed to win a hockey game since they beat the Minnesota Wild 2-1 back on October 19.
Despite the losing streak, general manager Dale Tallon said it was not necessarily the final straw, but was being considered for a long time.
"We don't make rash decisions, we make decisions for the future of our franchise," Tallon said.
The Panthers currently sit with 10 points on the season, going 3-9-4 in their first 16 games of the season. Their 10 points is tied for third fewest in the NHL with the Columbus Blue Jackets, only leading the Philadelphia Flyers (9) and Buffalo Sabres (7).
Horachek will make his interim debut with the Panthers Saturday when the team travels to take on the Ottawa Senators.
Follow Brandon Boles on Twitter: @BrandonBoles
Facebook.com/FullScaleSports
Twitter: @FullScaleSport
(Photo Credit: Robert Mayer, USA TODAY Sports)