Week 10 Breakout NFL Players
What a week it has been in the NFL full of upsets and amazing games. The Carolina Panthers beat the 49ers, the Rams dominated the Indianapolis Colts and a woeful Andrew Luck, and Baltimore beat the Cincinnati Bengals in overtime after a hail mary to end regulation to tie the game up from Andy Dalton to A.J Green. So now I present to you some guys that looked excellent win or lose this week and are starting to emerge for their team.
1. Andre Brown Running Back (NYG) - Brown came back this week after a broken leg and showed no signs of the injury hampering him. In his first game this season he ran for 115 yards and a touchdown. The Giants have now won 3 straight games and having a consistent running game with Andre Brown could help bring this team into the playoff picture. Brown has a nose for the end zone and we should see some big weeks from him going forward. STATS: 30 RUSHES, 115 YARDS, 1 RUSHING TD, 1 RECEPTION FOR 4 YARDS.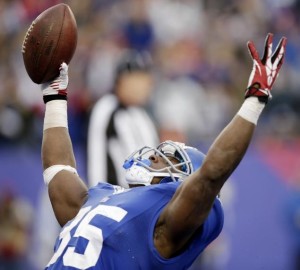 Brown—Kathy Willens AP Photo
2. Marques Colston Wide Receiver (NO)- Colston is a veteran and one may be wondering what he is doing here. Well he has had a shaky season and Drew Brees has not always looked his way. Colston hadn't had a TD reception since week 1 before this game. But tonight he dominated the Dallas secondary for 94 yards and a touchdown. STATS: 7 RECEPTIONS, 107 YARDS, 1 RECEIVING TD
3. Mark Ingram Running Back (NO)- Another New Orleans player that torched the Cowboys defense. Ingram had one of the best games of his short NFL career and after a lackluster season so far maybe this game earns him more reps going forward. Staying healthy is his issue and the Saints backfield is crowded but what a game he had. STATS: 14 CARRIES, 145 YARDS, 1 RUSHING TD, 2 RECEPTIONS FOR 15 YARDS
4. Vincent Ray Linebacker (CIN)- Everytime Ray was around a play was made. He was forcing turnovers, laying out Joe Flacco, and wrapping up running backs. He helped keep the Bengals in the game only allowing 17 points in regulation and helped the team tie the game up. I'll let Ray's statline speak for itself this game. STATS: 13 TACKLES, 3 SACKS, 1 INTERCEPTION RETURNED 4 YARDS, 3 PASSES DEFENDED
Rey—USA Today Sports
5. Tavon Austin Wide Receiver (STL)- How dynamic is this guy? His only 2 receptions both went for touchdowns and he returned a punt 98 yards to the house. This all came against a solid Colts defense but Austin was just too much to handle. This is his 2nd game with 2 receiving touchdowns but he only has 4 on the year. Going forward defense's are going to have to game plan for this speedster. STATS: 2 RECEPTIONS, 138 YARDS, 2 REC TD, 1 RUSH FOR 4 YARDS. 1 PR TOUCHDOWN
Honorable Mention: Walter Thurmond SEA Cornerback(Career High 7 tackles, FF and FR) , Paul Worrilow ATL Linebacker (19 tackles two games in a row), Case Keenum HOU Quarterback (Has 7 touchdowns to no interceptions, team has lost 3 close games under his guide)
Follow Shane Wellman on Twitter: @ASAPwell
facebook.com/FullScaleSports Twitter: @FullScaleSport
Ingram Photo Cred

David Grunfeld, Nola.com / The Times-Picayune)