Christmas Day uniforms revealed

Last year the NBA wore color on color uniforms for the Christmas Day games (photo below).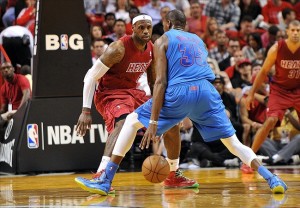 This year they will wear sleeved jerseys without the team name on the front , just the logo. Instead, they'll have a team logo on the chest, similar to a hockey jersey, with the uniform number moved to the left sleeve. Each player's name and number will remain on the back. The overall visual effect is that of a magnified T-shirt. The jerseys will be officially unveiled by the league later this month.
Here is a look at the Knicks jersey :
And the Golden State Warriors :
The rest of the uniforms at the top of the article (Heat , Lakers , Thunder , Nets , Bulls) left to right
Follow me on Twitter : @Time2Strive