Auburn win in a SEC Shootout 59-42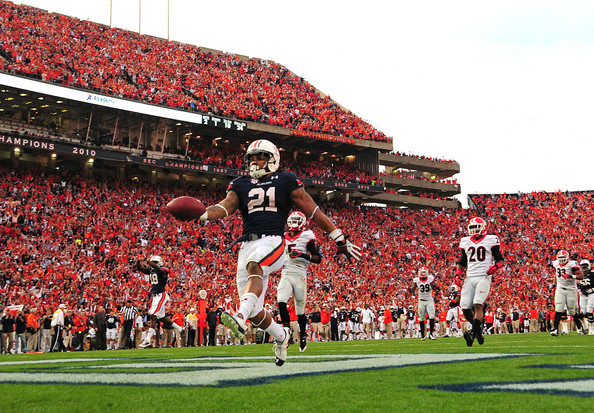 Atlanta, GA— There was no shortage of offense in the SEC Championship in the Georgia Dome. Auburn Tigers led by running back Tre Mason, outdueled the Missouri Tigers 59-42.
Mason posted video game numbers, rushing for 304 yards four touchdowns, to secure Auburn a conference championship, and keeping their national championship hopes alive.
Auburn Quarterback, Nick Marshall, got things going for the Tigers connecting with Sammy Coates for a 38 yard touchdown pass to take an early 7-3 lead.
Dorial Green-Beckham responded with a 28 yard pass from James Franklin to put Missouri up 10-7, before Marshall scampered into the end zone 14-10 before the end of the first quarter.
Tre Mason got his night going with 2 rushing touchdown in the second quarter from 7 yards out and 3 yards out.
But Franklin brought the Tigers within 1 before the half with a 55 yard connection with Green-Beckham.
Both teams traded back and forth in the third quarter, before Franklin dashed into the end zone from 5 yards out to bring Missouri within 3 at 45-42 just before the end of the third.
Mason put the nail in the coffin with two rushing touchdowns, from 1 yard and 13 yards out, to secure a 59-42 Auburn victory.
Marshall was efficient completing 9 of his 11 pass attempts for 132 yards and 1 score. Mason carried the rock 46 times for 304 yards and 4 touchdowns breaking the SEC championship record with most attempts and most yards.
Franklin finished the night 21/37 for 303 yards and 3 touchdowns in a losing effort for the Tigers.
Missouri fell 11-2 suffering their first conference loss of the season after finishing at the bottom of the conference last year.
Auburn who also finished at the bottom last year, improve to 12-1 on the year and now sit on their hands and wait to see if their play is good enough to make the National Championship. Florida State and Ohio State who both are undefeated are ranked higher than them, as Auburn can only hope one of them slips up.
Follow Shane Jackson on Twitter: @jacksonshane3
Facebook.com/FullScaleSports
Twitter: @FullScaleSport
Photo Credit: Scott Cunningham/Getty Images