Bears are Fiesta Bowl Bound after 30-10 win over Longhorns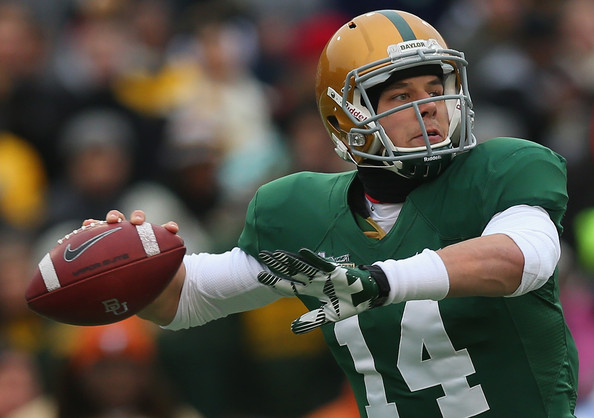 Wac0, TX— After 64 years, the final game was played in Floyd Casey stadium, with the Bears winning in 30-10 over in-state rival Texas Longhorns for the outright Big 12 Championship.
"Everybody knew it was there, whether it was outright or a share, we wanted to be Big 12 champs," said Baylor receiver Levi Norwood.
Although kickoff was 24 degrees, fans and players had a little extra pep at the start of this one. With the Oklahoma State loss, winner of this game would Fiesta Bowl bound and outright Big 12 Champions.
After trading field goals in the first half, Bryce Petty put the Bears on the board with a 11 yard touchdown pass to Antwan Goodley to put them up 10-3.
Petty connected with Norwood on a 6 yard touchdown pass to increase the Bears lead to 17-3 with 6:54 to go. After Malcolm Brown and Case McCoy connected on a 2 yard touchdown pass to pull the Longhorns within 10, Glasco Martin busted a 18 yard run in to the end zone to finish the Longhorns out 30-10.
Baylor's first 11 win season in school history to secure the Bears first outright conference championship was in large part to Bryce Petty. Petty went 21/37 for 287 yards and 2 scores.
Martin led the ground game for the Bears with 22 carries for 102 yards and his late game score.
Case McCoy was held to 54 yard and picked off twice in a losing effort.
Malcolm Brown had 25 carries for 131 yards for the Longhorns. He had 118 in the first half, the most by a Texas running back since Jamaal Charles in 2007.
The Longhorns who started off the year 1-2, battled back and had a chance at the conference championship before falling to 8-4.
Follow Shane Jackson on Twitter @jacksonshane3
Facebook.com/FullScaleSports
Twitter: @FullScaleSport
Photo Credit: Ronald Martinez/Getty Images