Fuquan Edwin with a career game in front of NBA Scouts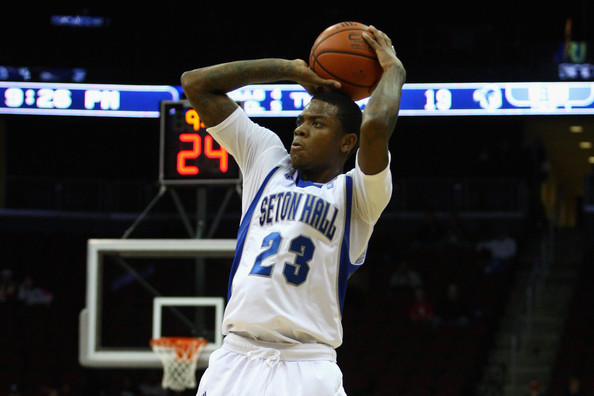 The athletic guard from Seton Hall scored 30 points en route to a Seton Hall victory over DePaul. Brooklyn Nets, Washington Wizards and Boston Celtics scouts were at "The Rock" to witness Edwin's incredible game.
To put this amazing game for Fu and Seton Hall in perspective, the electric guard had three less points scored than the whole DePaul team at halftime.  When Edwin was not scoring like crazy, he was creating shots for other players on his team (something that gets overlooked in his game).
Edwin has played well recently scoring 24 points against Georgetown and 12 points against St.John's.  He has been getting a lot of open looks at the three and his success beyond the arc is key to his team.
"He's a heck of a player and he's playing well," DePaul coach Oliver Purnell remarked. "He's the best defender that I've seen in a very long time. He picks it off and he goes the length and lays it up. His defense turned into his offense."
While, Edwin had one steal in the contest, defense is not something particularly noticeable in his game. Ball movement, aggressiveness, quickness, those are some things that could be picked up on while observing the Senior.
With games like this one, Edwin's draft stock will continue to rise, expect him to be drafted in the mid to late second round.
Follow Harrison Malkin on Twitter @HarrisonSports1
Facebook.com/FullScaleSports Twitter: @FullScaleSport
Photo Credit: ( Chris Chambers/Getty Images North America)