Anthony Bennett: Who's To Blame For Lack Of Success?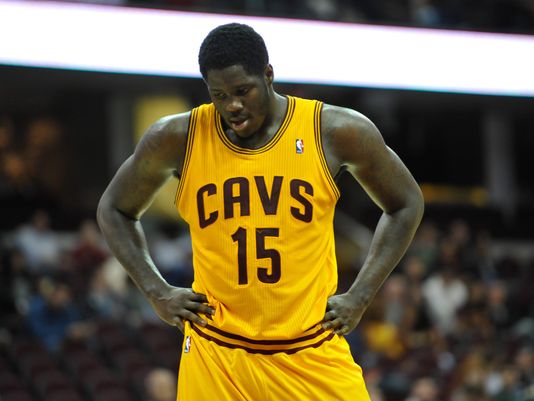 With the NBA All-Star game approaching, it's that time for announcements. Yesterday, the participants for the Rising Stars Challenge were announced, and the list did not include 2013 #1 pick, Anthony Bennett. The first overall pick by the Cleveland Cavaliers not only missed out on this event, but has missed on making an impact through the first half of his rookie season.
It took Bennett 32 games to reach double-digit points for the first time in his career, and has a season average of 2.8 points per game, 2.4 rebounds per game, and only 10.8 minutes per game. While Bennett has had his struggles, history would state that not all of the finger-pointing should go to the player himself.
Where is coaching through all of this? With some of the most recent draft picks in Cleveland, Mike Brown, and former head coach Byron Scott, have shown that they are not capable of growing talent. Tristan Thompson and Dion Waiters were both first round picks, both have shown flashes, but no consistency with their potential. Kyrie Irving is good, but he reportedly wants out of Cleveland, and can't stay healthy.
Since LeBron James has been drafted, this is how the Cleveland Cavaliers have followed up their selections.
2004- Luke Jackson
2005- None
2006- Shannon Brown/Daniel Gibson
2007- None
2008- JJ Hickson
2009- Christian Eyenga/Danny Green
2010-None
2011- Kyrie Irving
2012- Dion Waiters/Tristan Thompson
2013- Anthony Bennett
So the track record of the Cavaliers draft selections haven't been all that great, and there is something to be said for the fact that LeBron James left, and Kyrie Irving is looking to leave. The Cavaliers are currently 16-29 on the season, and with so much turmoil taking place with Dion Waiters' frustration, and now this report on Irving, what would this team lose by playing Bennett more minutes?
Nothing. The Cavaliers are a team filled with young potential, but there needs to be some solidarity created. Acquiring Luol Deng may have been the best move the team has done since drafting LeBron James. Deng's veteran presence not only brings leadership, but he's also known for holding himself and teammates responsible during bad play.
Anthony Bennett is the first #1 pick since Kwame Brown to not be invited to the Rising Stars Game, and when you search his name on Google, the first thing that follows is the word bust. It seems unfair, given a brutal track record by his team's handling of coaches and players, that all blame should be put on Bennett.
JJ Hickson and Danny Green have enjoyed success in their careers since departing from Cleveland, as has LeBron (which is unfair to put his name in this conversation), but Bennett, along with some of the other young players, need new management or a new a home if they want successful careers.
The selection of Anthony Bennett shocked many around the league, but in a class filled with hit or miss players, the Cavaliers have seemed to miss again, and that's not all on Bennett.
Follow Mike Pendleton on Twitter @MP2310
Facebook.com/FullScaleSports Twitter:@FullScaleSport
Photo credit: (David Richard/USA Today)