Landon Donovan takes shot at Jurgen Klinsmann: 'I don't think we were set up to succeed'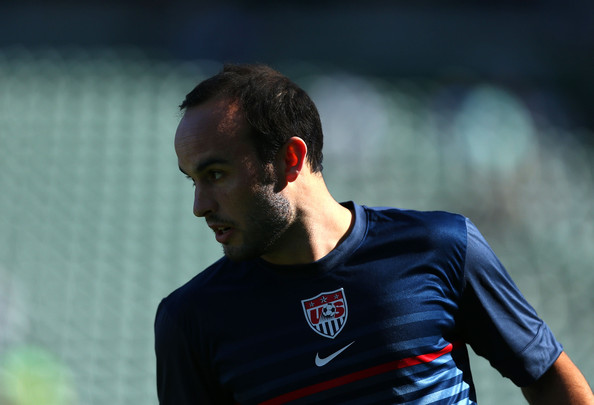 Landon Donovan was left off Team USA for the World Cup in a shocking move by head coach Jurgen Klinsmann, and at first, it didn't see to bother Donovan. Donovan shot this SportsCenter commercial following the move, poking fun at the move, and Donovan went on to provide in-depth analysis for ESPN on Team USA.
However, Donovan's tone changed when USA was eliminated by Belgium on Tuesday, Donovan, speaking with reporters on Wednesday took plenty of opportunities to rip Klinsmann and some of the decisions regarding the team's roster. Matt Bonesteel of the Washington Post laid out the eye-popping quotes from Donovan.
"I think we're all disappointed in what happened yesterday," he told MLS.com after practicing with the Los Angeles Galaxy on Wednesday. "I think the most disappointing is we didn't seem like we gave it a real effort, from a tactical standpoint. I thought the guys did everything they could, they did everything that was asked of them, but I don't think we were set up to succeed yesterday, and that was tough to watch."

"It's a results-oriented business, and so, results-wise, you can hold your head high," he said. "If you really look at the performances, there were some good performances by guys, some not-so-good performances by guys. As a whole, I think tactically, the team was not set up to succeed.

"They were set up in a way that was opposite from what they've been the past couple years, which is opening up, passing, attacking – trying to do that. And the team's been successful that way. Why they decided to switch that in the World Cup, none of us will know. From a playing standpoint, I think the guys will probably be disappointed in the way things went."
In addition to being judgmental on how the team was constructed, Donovan dived into how Michael Bradley was used, saying he was out of position.
"Michael was put in the wrong position," he said. "He was put in a position that he's not used to playing. He does a better job, as you saw with Julian Green's goal, being in a deeper position. And having someone in a front of him, someone to help Clint also, makes him that much better because he's got more opportunity to pick out different passes, more attacking options ahead of him. I think that was clearly an error."
Overall, Donovan said it was "tough to watch" sitting on the side while others put in all they had to lead Team USA to the round of 16, and bring a huge buzz back around American soccer.
It's very interesting that Donovan waited until Team USA was eliminated from the World Cup, to unload on Klinsmann, but when he did, he did not hold anything back.
Follow Mike Pendleton on Twitter @MP2310
Facebook.com/FullScaleSports Twitter:@FullScaleSport
Photo credit: (Victor Decolongon/Getty Images)