New Orleans Saints: Despite no 'celebrity' Saints defense getting it done under Rob Ryan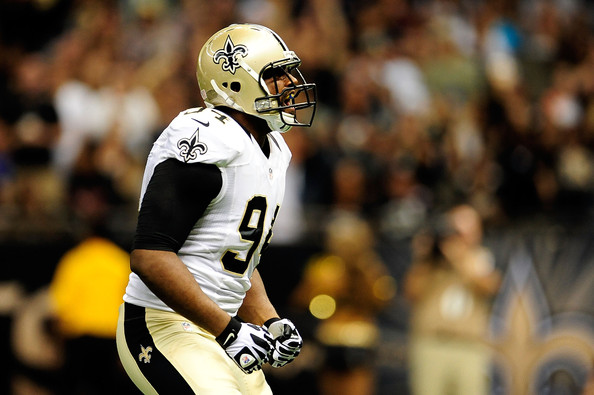 (Photo credit: Stacy Revere/Getty Images) 
With "Bounty Gate" past them, and Sean Payton back as head coach, the New Orleans Saints are 2-0. More importantly, the team's defense has shown vast improvements, especially in the passing game. Through two games the Saints have compiled four sacks, two interceptions, and have forced three fumbles with two of them being recovered. The Saints are under the first season with Rob Ryan as their defensive coordinator who is notoriously known for his defensive schemes.
Ryan's schemes come in the form of gambling, all or nothing, and if the pressure comes, the secondary better be ready to make a play. The telling tale for a defense that is led by a "celebrity" coordinator, is the fact that they seem to not have any celebrity-esque stars on their team.
This Rob Ryan defense is doing right, a hefty mix of solid veterans and talented young players, filled with potential. With Jonathan Vilma out due to a knee injury, veteran linebackers David Hawthorne and Curtis Lofton have filled in just fine.
The defensive line is seemingly led by Cameron Jordan, a former first-round pick, but also includes Akiem Hicks who also has a sack this year as he grows in his second year.
The secondary, as are the other positions, is led by veterans, Roman Harper and Jabari Greer. The team drafted safety Kenny Vaccaro at the safety position, and he already has 10 tackles in two games. Malcolm Jenkins, Corey White, and newly signed veteran Chris Carr help bring stability and depth to this unit as well.
The most important position for the unit is the outside linebacker. The team has installed all faith in the potentials of both Martez Wilson and Junior Galette. These two OLBs have enough talent to get near, or over double-digit sacks, partly due to talent, other part thanks to Rob Ryan.
It's only two games but the Saints are 2-0, with both wins in the division. As Sean Payton continues to excel with Drew Brees, it's Rob Ryan's defense that continues to excel.
Excel they have, and excel they can continue to, as long as Rob Ryan remains the only "celebrity" on that unit. Filled with veterans and a healthy mix of young potential, this Saints defense doesn't need any "celebrities", they create their own.
Follow Mike Pendleton on Twitter @MP2310
Facebook.com:/FullScaleSports
Twitter:@FullScaleSport