NFL Fantasy Football Week 4 - Ride or Pine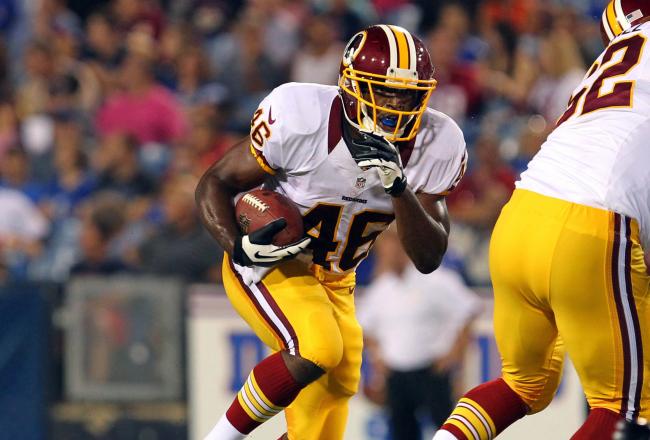 The Standard Intro
Week 4 of the NFL is set to kick off in less than 48 hours and the only thing missing is yet another fantasy advice column.  Be that as it may, I'll cover at least 5 guys who I think you should ride with and 5 who should be collecting blisters on the pine.  I'm not perfect, I'll surely have bad advice at times, but over 14 years of playing this game I've learned some things that will benefit you all along your path to the title.  So hang with me and send me your thoughts, I am always happy to lend an ear.  Important to note, this isn't a ranking of players.   This is strictly who I am high or low on for the week in play.

Week 3′s Big Hits - Brandon Marshall, Reggie Bush (By default), Antonio Brown

Week 3′s Big Whiffs - Josh Gordon, Knowshon Moreno, Eddie Royal

Ride em'
Terrelle Pryor, OAK QB - Seems like any QB going against the Redskins defense will be getting placed here.  Important to keep an eye on Pryor as the week progresses to make sure he will in fact be active after suffering a concussion in Monday nights game.   Washington is ranked 31st in passing defense through the 1st 3 weeks and I don't expect them to go all Drake in a week.
EJ Manuel, BUF QB - You don't start him over the big dogs, but if you are in a bye week pickle, EJ could be the guy to have fill in for the week.  The Ravens pass defense is 26th in the league and they will most definitely be keying in on CJ Spiller and Fred Jackson.  EJ struggled mightily against the Jets blitz last week, but you can expect Buffalo to shore that up in preparation for this weeks match up.
Alfred Morris, WSH RB - Denver was able to do exactly what i thought they would on the ground against Oakland, just with the wrong back.  I think this is a game that Washington can really set up their run game and play from ahead for a rare occasion this season.
Trent Richardson, IND RB - Additional week with his new team, check.  25th ranked defense against the run, check.  Colts wanting to display the reason they traded away a first rounder, check.  UPDATE: Coach Pagano stated Wednesday afternoon that he would rotate Richardson and Bradshaw.  This lessens the value some, but i still like Richardson enough to leave him on Ride em'.  Add in Bradshaw.
Anquan Boldin, SF WR - After exploding in week 1, Boldin has posted 7 yards and 67 yards.  Boldin shouldn't be expected to be the week 1 scorer you saw, but should be more consistent than he has the past 2 weeks.  The Rams provide the perfect match up for Boldin to get back in gear.
Coby Fleener, IND TE - He was bad last week, but to be fair the 49ers are 8th best against opposing TE's.  This week however, Fleener takes his talents to South Beach'ish.  The Jags are 17th against TE's and the Luck to Coby connection will gain momentum as the season carries on.
All Baltimore offense - Buffalo is depleted from the front 7 to back 4 with injuries.  If Geno can look like a future hall of famer against this defense, the defending Super Bowl champs surely can.
Colts D/ST - Jaguars. <END>
Pine em'
Eli Manning, NYG QB - It's been a tough season for Eli and his Giants and things don't get any easier this week against Kansas City.  The Chiefs have an amazingly athletic defense with a front featuring the league leader in sacks (Hunter) and a havoc maker (Hali).  The Giants clearly need to get the running game going and I think that will be the plan to avoid having Manning being tossed around like a rag doll.
Chris Johnson, TEN RB - Martin, Ridley, Spiller.  Three RB's who most likely were gone by the end of round 2 in your draft, have all been held to 80 yards or less against the Jets.  CJ will need a TD to save his point total this week because finding holes in the Jets defense has been harder than ________ (you pick).
Larry Fitzgerald, ARZ WR -  Insert something funny about WR going against Revis here.
Texans, WR's -  Seattle is good enough without help, but then you add in a banged up Andre Johnson and you're staring down  De'Andre Hopkins being doubled.
Jared Cook, STL TE - He's struggled since week 1.  Most of it is because Bradford hasn't had the time to progress through his reads and the other part is defenses keying in on him.  This week doesn't get any easier going against the 8th ranked 49ers against opposing TE's.
(Photo Credit: Getty Images)
Send your fantasy football questions to [email protected] or tweet them for Thursday Mailbags.
Follow Joshua Perry on Twitter @JoshuaPerry84
Facebook.com/FullScaleSports Twitter:@FullScaleSport