Fabricio Werdum In Line For Title Shot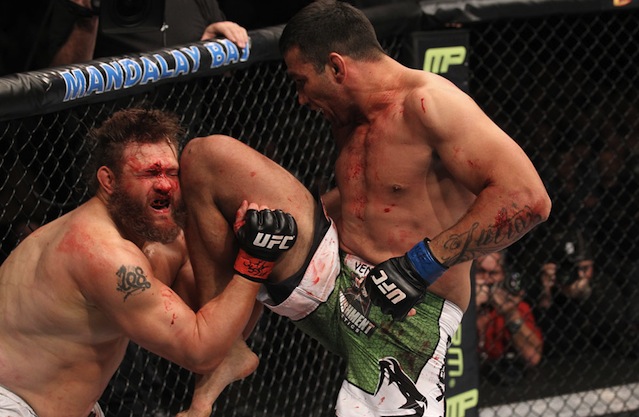 (Photo Credit: Nick Laham/Zuffa LLC/Zuffa LLC via Getty Images)
As the UFC moves forward on its World Tour to UFC 166 next month, plenty of speculation has revolved in the heavyweight division. With Cain Velasquez and Junior Dos Santos fighting for the heavyweight title in Houston, plenty of speculation on who would challenger the winner was going on.
Thursday, UFC President Dana White put an end to the rumors.
White told sources that the plan, for now, would be the winner of Velasquez and Dos Santos would face Fabricio Werdum for the next title shot. Werdum, from Brazil, is the third ranked contender in the UFC heavyweight division.
Werdum (17-5-1) has won all three fights in his UFC career, knocking off big name opponents Roy Nelson, Mike Russow, and Minotauro Noguiera in doing so. His last fight came at UFC on Fuel TV 10 in June.
Known for his ground game, Werdum has pulled off countless submissions from his time fighting in Pride and Strikeforce, including a second round submission in his most recent fight with Noguiera. Even though his ground game is strong, Werdum can also finish by KO/TKO, which he did so against Russow and nearly against Nelson.
Despite his well rounded game and unbeaten UFC career, Werdum has flown under the radar in the heavyweight division that is looking for more top name contenders. Velasquez and Dos Santos will face each other for the third time in the octagon, while Daniel Cormier, and up and coming superstar in the sport, is planning a drop to the light heavyweight division in the near future.
A strong background and record shows the Brazilian has the potential to be the next UFC heavyweight champion, including a potential matchup against fellow Brazilian Dos Santos, a fight which ultimately could make it to Brazil on pay-per-view, as the UFC continues to strive bringing multiple international events. Brazil has hosted countless events and even pay-per-view cards, most recently at UFC 163.
UFC 166 October 19 will feature the trilogy between Velasquez and Dos Santos for the UFC heavyweight title. As for Werdum, he will be watching very closely for his next potential opponent.
Follow Brandon Boles on Twitter: @BrandonBoles
Facebook.com/FullScaleSports
Twitter: @FullScaleSport