Luck leads Colts to comeback victory over Titans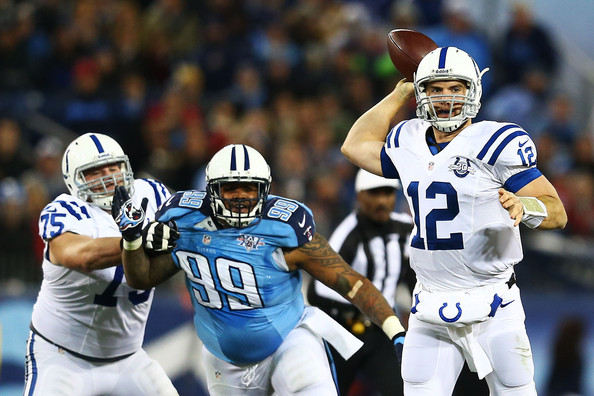 NASHVILLE, Tenn. — The comeback kid was at it again, but this time it was the running back get the job done.
It was an AFC South battle on Thursday as the Colts went on the road to take on Ryan Fitzpatrick and the Tennessee Titans. While Fitzpatrick is taking over for Jake Locker, who is out for the season with a foot injury, it was Chris Johnson's night for the Tennessee offense. Johnson started off the game with two early touchdowns, from 30, and 7 yards.
The Titans held a 17-6 halftime lead, until Andrew Luck, Donald Brown, and the Colts defense made opportunistic plays. It was Brown who got things started with a 7-yard touchdown run, on an 11-play drive in which Luck completed all five of his pass attempts. Following the touchdown, the Colts were set to kickoff back to the Titans, and the madness began.
Devon Wylie, who was signed by the Titans on Tuesday to replace the injured Damian Williams,  received the following kickoff, ran into teammate Craig Stevens, causing a fumble which was recovered by the Colts. That's when Luck and the Colts took over, as the next drive was capped off by Luck's 11-yard touchdown run, giving them a 20-17 lead.
Adam Vinatieri hit three field goals for Indianapolis, including a 50 yarder in the third quarter, but the dagger was delivered by Donald Brown in the fourth. After Titans' kicker Rob Bironas connected from 38 yards, Brown had an 11 yard touchdown run, putting the Colts up 30-20. In this game tight end Coby Fleener had a career high eight catches for 107 yards.
A late comeback attempt began when Fitzpatrick threw his first touchdown of the night, a 19 yard completion to tight end Delanie Walker, but could do no more as the Colts held on for the 30-27 victory. The win comes not only in comeback fashion, but in bounce back fashion, as the Colts looked to recover from the 38-8 upset they suffered from the St. Louis Rams last week.
With the win, the Colts improve to 8-0 after a loss under Chuck Pagano, having yet to lose back-to-back games since his arrival. With the win Indianapolis improves to 7-3 on the season, while the Titans, drop to 4-6.
Follow Mike Pendleton on Twitter @MP2310
Facebook.com/FullScaleSports Twitter:@FullScaleSport
Photo credit: (Andy Lyons/Getty Images)