NHL Preview: Anaheim Ducks at Tampa Bay Lightning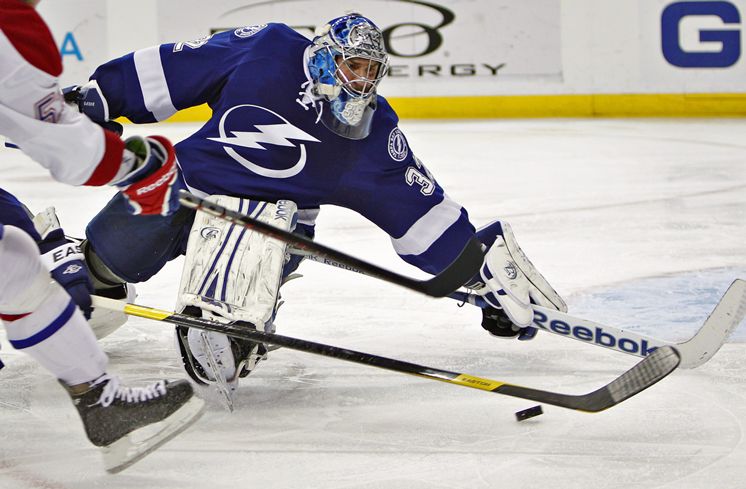 TAMPA BAY, Fla. — A marquee matchup will go down Thursday at the Tampa Bay Times Forum, as the eastern conference points leader Tampa Bay Lightning will host the western conference points leader Anaheim Ducks.
Tampa Bay (13-5-0) is coming off a 2-1 shootout win over the Montreal Canadians Tuesday. It was their first game played without Steven Stamkos, who suffered a fractured tibia Monday at Boston Monday. Entering the Boston game, Stamkos was the leading points scorer in the NHL, and currently sits behind Pittsburgh Penguins' Sidney Crosby for second most points in the NHL at 23.
While the Lightning have been tallying up points, they also have had solid goaltending behind Ben Bishop in 2013. In 14 starts, Bishop is 12-2, and holds a 2.02 goals against average on the season. Bishop will be in goal for Thursday's game, after stopping 28 shots Tuesday.
As for goal scoring, the Lightning hope Martin St. Louis, second on the team with 16 points, can generate the big offensive threat for Tampa Bay's offense with the absence of Stamkos. Despite only scoring two goals, Tampa Bay did record 44 shots against Montreal. Valtteri Filppula and Ryan Malone were the two goal scorers Tuesday.
While Tampa Bay looks to end their short home stand with a second win, before embarking on a four game west coast road trip, the Anaheim Ducks (15-4-1) are in the midst of a four game road trip in the eastern part of the country. The Ducks are looking for better fortune in the state of Florida Thursday after dropping a game to the Florida Panthers 2-3 on Tuesday.
Before losing on Tuesday, Anaheim was riding a nine game point streak, winning eight games and earning a point in a shootout loss at Boston to tally 17 points during that stretch. Playing in the tough Pacific division, the Ducks' 31 points leads all of the NHL and has fathomed the attention in all of hockey.
The Ducks have been riding solid goaltending and the number three scoring offense in hockey to earn their first place standing in the NHL. But they will be without the services of Ryan Getzlaf, who will miss his third straight game due to injury. Getzlaf leads the Ducks with 22 points. Corey Perry, who is second on the team with 21 points, is also a game time decision against Tampa Bay due to the flu he and other players are suffering.
Rookie Frederik Anderson, who has gone 6-1 with a 1.66 goals against average on the season, was reassigned back to the AHL, and Peter Holland was called up in his place. Viktor Fasth also was called up to Anaheim after passing his conditioning stint. Jonas Hiller, who has gone 7-2-1 with a 2.47 goals against average, is expected to start Thursday night in Tampa Bay.
The Ducks did get off to a fast start against Florida on Tuesday, scoring two quick goals in the first period from Hampus Lindholm and Andrew Cogliano, both of whom have double digit points on the season. Averaging 3.35 goals per game, Anaheim looks to continue putting the offensive pressure on early and consistently Thursday night.
The puck will drop between the Anaheim Ducks and Tampa Bay Lightning at 7:30pm ET.
Follow Brandon Boles on Twitter: @BrandonBoles
Facebook.com/FullScaleSports
Twitter: @FullScaleSport
(Photo Credit: Daniel Wallace, Tampa Bay Times