BREAKING: Panthers To Trade LB Beason To Giants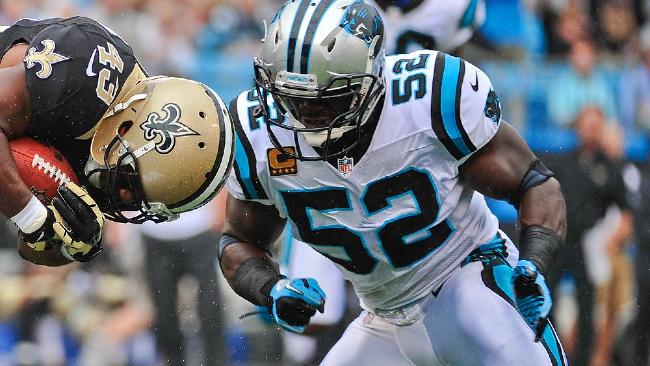 In a story breaking in the waning hours of the first day of Week 5, Fox Sports' Jay Glazer reports that the Carolina Panthers are in the works of trading their 3-time Pro Bowl linebacker Jon Beason to the New York Giants for a late-round pick. Glazer says, pending a physical, the deal is done.
Jon Beason is a 28-year-old veteran who has played his entire career in Carolina. Over his 7-year career, Beason collected 573 career tackles and 9 interceptions. He has been selected as Second Team All-Pro in 2008 and 2009 and has made Pro Bowl appearances in 2008, 2009 and 2010.
The Giants, who are in desperate need of help at linebacker, will give the Panthers a late-round draft pick, most likely 6th-rounder.
Beason has not seen much action this year, splitting snaps with LB (former Giant) Chase Blackburn. Beason has recently struggled with injuries; he's had microfracture surgery, knee surgery and tore his achilles tendon in 2011. Should he pass his physical, the Giants will sign him in Friday morning.
NFL Network's Ian Rapaport tweets his thoughts on Beason and his injuries possibly impacting the deal:
Beason signed a 5-year, $50M contract with Carolina in 2011 prior to his achilles injury.
For more breaking news from the NFL, log on to Twitter and follow @Jim_Vasil and @FullScaleSport.
Photo: Associated Press