Brandon Weeden leads Browns over Bills in injury filled game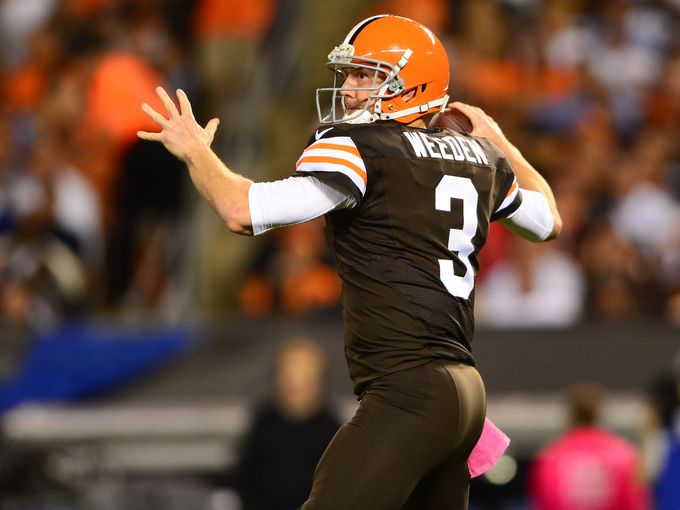 CLEVELAND- In a Thursday Night matchup that began with Brian Hoyer leading the Browns and E.J. Manuel leading the Bills, it was Brandon Weeden getting the win for Cleveland and Jeff Tuel taking the loss for Buffalo. Hoyer, who had led the team to two straight wins, was knocked out in the first quarter with a knee injury, and Browns head coach Rob Chudzinski says he fears the quarterback "tore ligaments and will undergo an MRI."
Hoyer wasn't the only player injured in this game as Browns' defensive tackle Desmond Bryant was taken to the hospital for shortness of breath, while Bills quarterback E.J. Manuel was injured with a knee sprain, and wide receiver Steve Johnson left the game in the first half with a back injury. None of the injured players returned to the game.
It was chance for redemption for Weeden who was overtaken by the recent play of  Hoyer, yet Weeden who went 13-24 for 197 yards and a touchdown, remained poised. Poised he was, and with help from Willis McGahee's touchdown, Travis Benjamin's punt return for a touchdown, and a pick-six from T.J. Ward, the Browns improved to 3-2 for the first time since 2001.
On his lone touchdown pass of the night, Weeden found wide receiver Josh Gordon who bobbled, and tipped the ball to himself, as he scored late in the third quarter, this after a 47-yard completion to receiver Greg Little. The Browns also played clean football, as they did not have a single turnover on the night, while their relentless defense had four sacks.
The Bills were true to their running game, despite both Fred Jackson and C.J. Spiller being questionable throughout the week with injuries. Fred Jackson rushed 17 times for 53 yards, and two touchdowns, while Spiller rushed 8 times for 66 yards, and a 54-yard touchdown.
Undrafted rookie Jeff Tuel came in to replace Manuel and finished 8-20 for 80 yards and one interception. Wide receiver T.J. Graham left the game with a head injury, but was able to return. The Bills defense showed flashes of good play as Kevin Williams and Mario Williams combined for 3 sacks, and the unit finished with five total sacks. Rookie linebacker Kiko Alonso had 12 tackles to bring his total up to 46 through five weeks, as he makes a strong case for Defensive Rookie of the Year.
The Browns (3-2) will take on the Detroit Lions in week six, as the Bills will play host to the Cincinnati Bengals. While both teams await the injury updates on their starting quarterbacks, Cleveland looks to have a guy in Brandon Weeden they can turn to, while the Bills may be in a world of trouble without Manuel.
Follow Mike Pendleton on Twitter @MP2310
Photo credit: (Andrew Weber/USA Today Sports)
Facebook.com/FullScaleSports Twitter:@FullScaleSport