NHL Eastern Conference: Metropolitan Division, Is it Pittsburgh's Division to Lose?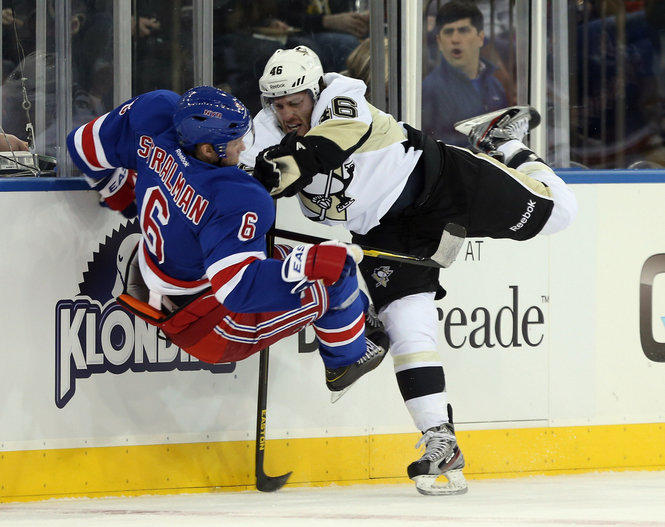 The other half of the NHL's Eastern Conference is known as the new Metropolitan division that includes the Pittsburgh Penguins, New York Rangers and Islanders, Columbus Blue Jackets, Washington Capitals, Philadelphia Flyers, Carolina Hurricanes, and New Jersey Devils.
1.) Pittsburgh Penguins
The Pittsburgh Penguins are a team that has been at the top of most critics leader board year in and year out as the favorites to win it all. With Sidney Crosby and Evgeni Malkin how could you not pick them. The Penguins will score many goals this year with Malkin and Crosby leading the way in that department. Also pay attention to goaltender Marc Andre-Fleury. Ever since he stole game seven of the 09 finals in Detroit, Andre-Fleury has not impressed me and it showed last year when head coach Dan Bylsma pulled him in the playoffs and replaced him with Tomas Vokoun. This is a make or break year for him. Look for Kris Letang to have solid year after receiving a huge contract in the offseason. The big concern for me is the defense that had a roller coaster up and down type season last year and that needs to improve if the Penguins want to win it all.
I'm also looking forward to see how some of the Penguins young guns pan out. Beau Bennett of California is my upcoming player to watch. He had one goal last year in six playoff games, not exactly a wowing stat but he is young and I expect him to be the next big goal scorer for the Penguins.
Key Losses: F Jarome Iginla, F Matt Cooke, F Tyler Kennedy 
Key Additions: D Rob Scuderi, F Matt D'Agostini
2.) New York Rangers 
The New York Rangers are in a complete different system this year with new coach Alain Vigneault. Vigneault will be a more offensive minded coach and promote the superstars they have and look to see the offense have a little kick this season. Defensively I believe they'll be ok with the best goalie in the NHL in Henrik Lundqvist continuting his success. Brad Richards, Chris Kreider, and Marc Staal all need to put up numbers this year offensively to help complement Rick Nash who also needs to live up his contract.
Coming from a defensive minded coach in John Tortorella my only concern with this team is if they have the conditioning to play this fast and upbeat style of play only time will tell for the Rangers as they look to finally breakthrough the shadows and into the spotlight this year.
Key Losses: F Ryan Clowe, C Kris Newbury 
Key Additions: F Benoit Pouliot, C Dominic Moore
3.) New York Islanders 
The New York Islanders surprised many last year with their play and playoff berth. They tested the top ranked Penguins last year in the playoffs and proved they can hang with the big dogs atop, but do not expect that to happen this year.  John Tavares, Michael Grabner, and Kyle Okposo have been the stars of Isles as fans will be looking to see how these three pan out.
Defensively losing Mark Streit hurt this team severely. New York now is looking to bank on young 23 year old Travis Hamonic as the teams top defensemen and with a seven year, 27$ million contract he better play like he's a 3.5$ million player which he can do. Cal Clutterbuck and Pierre-Marc Bouchard are expected to contribute heavily on the offensive end and can 38 year old goaltender Evgeni Nabokov play a full season and not be fatigued. In the series against Pittsburgh he showed signs of fatigue or mainly it was due to the barrage of shots he faced against them.
Key Losses: D Mark Streit, F Brad Boyes 
Key Additions: F Cal Clutterbuck, F Piere-Marc Bouchard 
4.) Washington Capitals 
The Washington Capitals have a been a mystery team over the past few years. Coming in with high expectations and ending the season on a low note. Winning the southeast division five of the past six years isn't something to be proud of. With this new realignment we will see the Capitals true colors. Last years embarrassing 5-0 loss to the New York Rangers in game seven summed up their season, dissappointment.
In the second half of the season they flourished under coach Adam Oates' system and expect them this year to challenge for the Metropolitan crown. Losing center Mike Ribeiro to Phoenix is a huge loss, he contributed greatly to their power play. Picking up Mikhail Grabvoski was the center they were looking for to replace Ribeiro.
Losing Wojtek Wolski was huge loss as well as headed to the KHL. He registered nine points in 26 games.
Key Losses: C Mike Ribeiro, F Wojtek Wolski
Key Additions: C Mikhail Grabvoski 
5.) Philadelphia Flyers
There is not much to say about the Philadelphia Flyers other than disaster. After last year's disappointing season the Flyers moved Ilya Bryzgalov and Danny Briere clearing space to help them get younger. Instantly they made to moves signing forward Vinny Lecavalier and defenseman Mark Streit in addition their playing ability they also provide solid leadership to a team that has struggled in that department.
Going into the season the Flyers still have a battle at goaltender between Ray Emery and Chris Mason. Glaude Giroux is coming off a great season in which he played every game and tallied 47 points. If Lecavalier can be a point per game guy like they think he can Philadelphia should be looking good for this upcoming season.
The defense is looking solid this year the only problem is Ray Emery wont have that great record like he did in Chicago a year ago and Mason needs to find the 2009 version of himself.
Key Additions: F Vinnie Lecavalier, D Mark Streit, G Ray Emery 
Key Losses: F Danny Briere, F Simon Gagne, G Ilya Bryzgalov 
6.) Carolina Hurricanes 
I think it safe to say that the Carolina Hurricanes had the most disappointing season out of any team in the NHL. Signing Alexander Semin and Jordan Staal in the off season last year was huge and Hurricanes fans had a reason to celebrate. Then goalie Cam Ward got hurt and everything went into a downward spiral. Jordan Peters and Dan Ellis combined to go 10-19-3 with a .899 save percentage that is absolutely heinous. Besides that Cam Ward comes back healthy and will have a solid year this year
Jeff Skinner, who enjoyed a breakout year as 20 year old, is signed to a large extension. Jiri Tlusty is also coming off a great year with 38 points in 48 games is under contract. Also the Staal brothers Jordan and Eric are locked up probably for life with this team. Look for Justin Faulk and Ryan Murphy to carry the minutes load on the defensive end as they lost Joni Pitkanen for the year with a broken heel.
Key Losses: D Marc-Andre Bergeron 
Key Additions: F Nathan Gerbe, D Ron Hainsey, D Mike Komisarek 
7.) Columbus Blue Jackets 
The Columbus Blue Jackets are the best story in the NHL right now. I only say that because I don't think a team so bad could turn it around that quickly in a matter of months. Sergei Bobrovsky flat out played amazing last year and was rewarded with the Vezina trophy as the leagues top goaltender and Blue Jackets were in the playoff hunt until the last day of the season. Bobrovsky signed a two year, 11.25$ million contract this season. The Blue Jackets also picked up forward Nathan Horton signing him to a seven year, 37.1$ million deal. He will be on the right wing on a line with Marion Gaborik. Gaborik posted eight points in 12 games after being dealt. New additions will be looking to replace the teams top scorer in Vinny Prospal.
On defense the Blue Jackets bring back the solid core. Fedor Tyutin, James Wisniewski and Jack Johnson anchor a core that surrendered just 119 goals in 48 games last season. If the defense can hold up in front of Brobrovsky and if Brobrovsky can continue to have a Vezina type season this year you'll see the Blue Jackets sneak into the playoffs this year.
Key Losses: F Vinny Prospal 
Key Additions: F Nathan Horton, F Jack Skille
8.) New Jersey Devils 
New Jersey had a strong offseason a much stronger offseason than regular season to say the least. 19-19-10 wasn't the record they were looking after losing in the cup final the year before to LA. GM Lou Lamoriello reeled in goaltender Cory Schneider who seems be Martin Brodeur's replacement as he is getting old. Remember Brodeur missed 19 games last season with a back injury which derailed their season.
Next Lamoriello turned to his offense in which he lost forwards David Clarkson (Toronto) and Ilya Kovalchuk (Retirement). Instead he decided to add some size and pop in his offense. He signed Ryan Clowe and Michael Ryder. Clowe is coming off the worst season of his career and Ryder notched 35 points in 46 games. The Devils also recently added former Red Wings forward Damien Brunner who has proven he can handle the speed and physicality in the NHL he also is a natural goal scorer. They also signed grizzled veteran Jaromir Jagr who still has those soft hands and can be a nice veteran presence. Expect captain Bryce Salvador to have a better season as last year he had a dismal campaign finishing the season -12.
Key Losses: F Ilya Kovalchuk, F David Clarkson, D Henrik Tallinder 
Key Additions: F Damien Brunner, F Ryan Clowe, F Michael Ryder, F Jaromir Jagr, G Cory Schneider