FFL Week 4 - Studs and Duds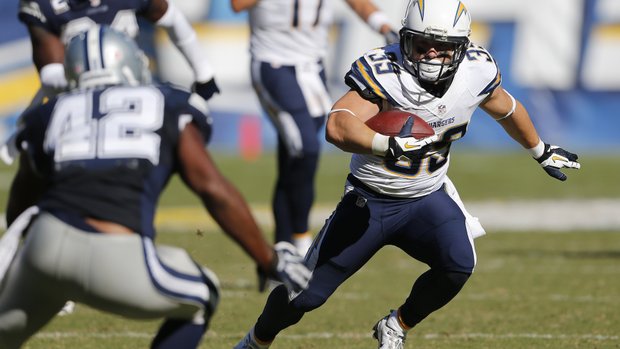 The scores have come in from Week 4 and fantasy points have finalized.  90% of fantasy players are either on extreme highs or extreme lows. They are either going to win the championship or they won't win a match up all year.   No need to panic or get overly ecstatic, that's why I am here.  So with no further introduction, let's dig into Week 4′s fantasy studs and duds.
Studs
Tony Gonzalez, ATL TE - 12 receptions for 149 yards and 2 TD's.
You buying it?  Of course I am.  I said not to worry a few weeks ago and I stand by this performance.  The rust of missing training camp is slowly wearing off and Ryan is finding Gonzalez open in the seams.  I expect more performances of this caliber than I do of weeks 2 and 3.
Danny Woodhead, SD RB - 5 carries, 32 yards along with 5 receptions for 54 yards and 2 scores.
You buying it?  Not really.  Woodhead is still a flex option because of his versatility, but if you look at the numbers, he hasn't had a ton of touches.  He made the most out of his 10 opportunities Sunday, but if you expect him to get multiple TD's every game, you'll be thoroughly disappointed.
Le'Veon Bell, PIT RB - 16 carries for 57 yards and 2 scores, while also adding 27 yards on 4 receptions.
You buying it?  Barely.  The Steelers have running issues far beyond the capability of any back on the roster.  Obviously if your back can get a TD, the day is practically made, however if you look at Bells production from Sunday it wasn't all that impressive.   He averaged less than 4 ypc and the Steelers still look like they are going to rest the season on Ben's shoulders.   Bell has immense potential, but starting 0-4 this season doesn't help his case.
Robert Woods, BUF WR - 4 receptions for 80 yards and a TD.
You buying it?  Yes.  The rookie from USC has been nothing short of a consistent target for EJ Manuel.  While Stevie Johnson is still the guy in Buffalo, it's clear as day the rookie connection is in full force.  Aside the game winning TD against the Panthers in week 2, Manuel has looked for Woods in critical game moments.  We saw Woods get some field stretching work this past game and I expect they use that a little more going forward.
Duds
Chris Johnson, TEN RB - 15 carries, 21 yards. 2 receptions for 10 yards.
You buying it?  No.   The Titans want to run the ball, they upgraded their line to do so.  Jake Locker is projected out for a while and the running game is going to be that much more vital to the Titans ability to win games.  I give CJ a pass here solely based on the Jets defense and how stout they have been against the run this season.
Maurice Jones-Drew, JAC RB - 13 carries, 23 yards and 5 yards on 1 reception.
You buying it?  No, I'm not buying it on MJD, but I am buying it on the Jaguars offense.  Few things keep me optimistic though, 1) Justin Blackmon returns 2) They face the Rams who have been torched against the run and 3) IF MJD wants to get paid, he better get going.
DeSean Jackson, PHI WR - 2 catches, 34 yards.
You buying it?  Another No.  Jackson was the league leading WR through the first 2 weeks of the season, but has faced touch match ups each of the last 2 weeks.  He'll get plenty of opportunities this week as they face the struggling Giants, but buyer beware, if this game is bad it may be time to sell.
Andy Dalton, CIN QB - 17 of 32, 206 yards and 1 int.  2 carries for 10 yards.
You buying it? Yes, but only if he's your starting QB.  If he's just your backup, I wouldn't be.  Dalton has shown in the past that if his main target AJ Green is held in check, his stats suffer right along side.  Dalton has been a winner since he came into the league, but he's never carried the stats to enjoy prime fantasy status, there's better options out there, go find them.
(Photo Credit: Earnie Grafton)
Send your fantasy football questions to [email protected] for Thursday Mailbags.

Follow Joshua Perry on Twitter @JoshuaPerry84
Facebook.com/FullScaleSports
Twitter:@FullScaleSport