2014 NFL Draft: EIU's Jimmy Garoppolo Ready To Shine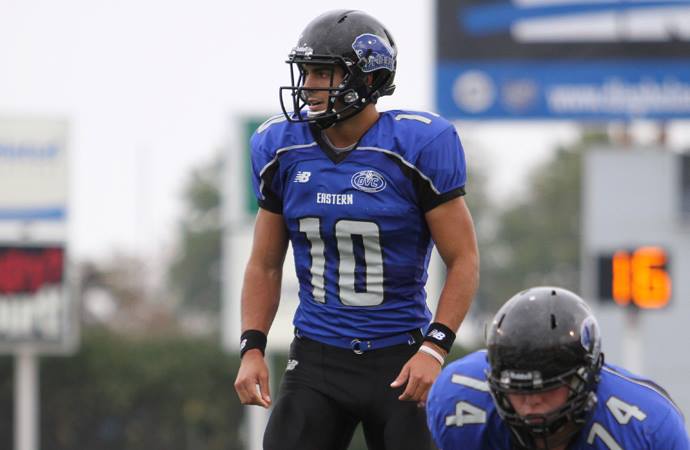 We've all heard the names: Teddy Bridgewater, Johnny Manziel, Marcus Mariota, Tajh Boyd, and even Aaron Murray, but one name you likely haven't heard is Jimmy Garoppolo. If you haven't heard of the Eastern Illinois product, shame on you.
Let's start with the fun facts. Garoppolo has broken New Orleans Saints' head coach Sean Payton's record for total offense at EIU, and he's also broken current Dallas Cowboys quarterback Tony Romo's career touchdown record, both an EIU and OVC record. In his collegiate career, Garoppolo has thrown for 10,465 yards (and counting), with 93 touchdowns to 46 interceptions, and has a completion percentage of 62%.
Now in his senior season, the FCS quarterback has been turning heads, as the Eastern Illinois Panthers are 5-1, with their lone loss coming to Northern Illinois, a 43-39 defeat. The 6-foot-3, 220-pound former Rolling Meadows High School standout has turned heads and grabbed scouts attention this season, a career season, in which he has a 65.9% completion rate, with 2,359 yards, and 28 touchdowns to only four interceptions.
The scouts are raving about his ability to get the ball out of his hands, and his head coach, Dino Babers has said that his release "is quicker than Robert Griffin". Babers, spent four seasons with the Baylor Bears program, so when the coach talks about his quarterback's release, or even more so that Garoppolo "was as hot as any quarterback as I've ever seen", there's some strength to those words.
Even the draft insiders are getting in on the attention:
How high could Garoppolo be drafted? In a recent convo I had w/ a scout, he mentioned 2 words that might surprise some: "First" and "Round"

— Dane Brugler (@dpbrugler) October 11, 2013
While humble, Garoppolo is certainly getting the attention he deserves, which once was not the case. Dreams of playing at Notre Dame and Florida, neither of which he heard from, and several Big 10 teams looking, but not offering, you can certainly see that Garoppolo has played with a silent chip on his shoulder. Even Ohio State coach Urban Meyer praised Garoppolo calling him:
"One of the best quarterbacks, I've ever seen"(Chicago Tribune)
While surprise may be the word for several NFL scouts, and college football fans, those who watched Garoppolo at Rolling Meadows, knew the talent was there.
A dual-threat quarterback who has always demanded the attention and respect of his teammates, his pocket presence and ability to get the football out quickly, have translated over to his collegiate career, and are just some of the reasons why he'll be playing on Sundays.
The scouts are raving, the Heisman whispers are there, but more importantly, the talent is there for Jimmy Garoppolo to become the next star quarterback in the NFL. While there are plenty of quarterbacks being talked about, Garoppolo's name is known around those who do their research, and not so much the casual fan, and that may not be a problem for the soft-spoken leader.
Joe Flacco, the 2013 Super Bowl MVP, is the last FCS quarterback to be taken in the first round (2008, pick 18), and Garoppolo may be next. To break records held by the likes of Sean Payton and Tony Romo, speaks volumes to the talent of this future NFL quarterback.
Garoppolo may not be making it rain like Johnny Manziel, or playing SEC football like Aaron Murray, but sometimes the silent-hidden gems, are the best thing to happen to an NFL franchise.
Follow Mike Pendleton on Twitter @MP2310
Facebook.com/FullScaleSports Twitter:@FullScaleSport
Photo credit: (NFLsfuture.com)