Week 7 FA and Waiver Wire Adds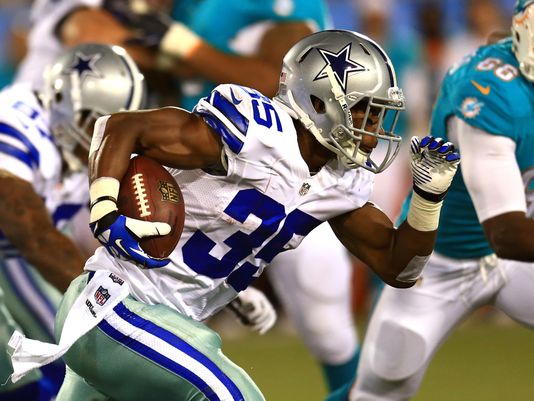 One of the best ways to stay competitive in your league is to scour the free agent market and waiver wire.  Most players listed here are for 10 and 12 team leagues, 14 teamer's usually have slim pickens.
Here's your week 6 top waiver grabs:
 Joseph Randle, DAL RB - It was just a matter of time before Murray went down.  Randle has some skills and has been highly regarded by the Cowboys brass.  If he makes a strong showing, he may be a factor even when Murray returns.
Keenan Allen, SD WR- I'd be surprised if he's available.  He gets even looks with Gates and Brown and has a lot of promise.  Should have been grabbed last week, but just doing my due diligence for the readers.

Michael Cox, NYG RB - As of this sentence being typed, it looks like Jacobs is a go, but with Scott hurting, there;s a chance Cox can get work if Jacobs is limited.  You might have to be hurting for a RB, but you might find some luck here.
Harry Douglas, ATL WR - He's not going to get you 20 points or make spectacular plays, but on an offense deprived of healthy WR's, what do you have to lose?
Kris Durham, DET WR -  He's surpassed Broyles on the depth chart and he'll be a serviceable match up play until Burlington returns.  With Megatron still hobbled last week, Durham was the benefactor of 13 targets.
Chris Ogbannaya, CLE RB -  McGahee is still getting a good amount of carries, but Ogba is getting all the 3rd down work and seeing plenty targets from Weeden as a result.  Ogbannaya makes a strong flex play in PPR leagues.
Vikings D/ST, PackersD/ST, Panthers D/ST  - Sneaky good potential defensive fillers.
Josh Freeman MIN (Pending start),  Mike Glennon TB  - Bye Week QB fillers
Some other guys you might want to take a flier on if available - Jordan Reed WSH TE, Donnie Avery KC WR, Robert Meachem NO WR, Mohamed Sanu CIN WR, Kenny Stills NO WR, Jeff Cumberland NYJ RB, Chris Ivory NYJ RB.

 (Photo Credit: Andrew Weber)
Send your fantasy football questions to [email protected] for Thursday Mailbags.

Follow Joshua Perry on Twitter @JoshuaPerry84
Facebook.com/FullScaleSports Twitter:@FullScaleSport