Counting Down the Top Dunks in History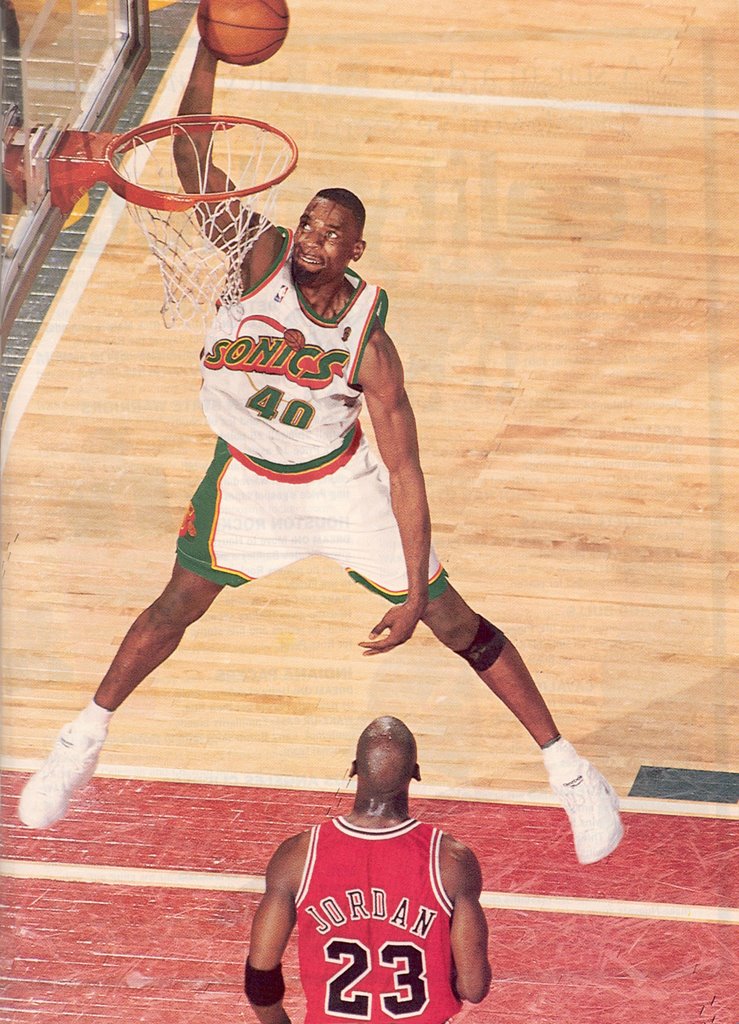 During the 1960′s the slam dunk became the biggest thing in basketball; people went to games hoping to see their favorite player throw one down for the fans. Since the 60′s, the slam dunk has evolved and new styles of dunking have emerged. Popular types of dunks include the tomahawk dunk, the windmill dunk, the baseline dunk, and most notably the alley-oop. While many of the best dunks in history have gone unrecorded, we present the top 10 best dunks of all-time caught on film.
10. Nate Robinson's 2009 Dunk Contest Winner
Some of you are probably thinking, Nate Robinson? Really? Yes, really! Keep in mind Robinson is a measly 5'9 jumping over Dwight "Superman" Howard who happens to stand at a towering 6'11. Although it can be debated that his defensive talent has dwindled the past few years, Howard is still one of the league's best big men, making it difficult for anyone to get to the basket. Having Howard stand in your path is not an ideal situation. Therefore, we must give credit to little Nate Robinson for handling Howard like a boss.
9. Kevin Johnson's Poster Dunk Over Olajuwon
Speaking of big men, one of the best to ever step foot on a basketball court was "Akeem the Dream" Hakeem Olajuwon. Olajuwon's list of credentials could be discussed for days: the number one overall draft pick, a twelve-time NBA All-Star, and the league's all time leader in blocks. Kevin Johnson posterized Olajuwon with this dunk in 1994. By the look on Johnson's face after the dunk, it's obvious he knew he just made a major statement.
8. Frobe Bryant
Meet Frobe Bryant, the league's best player before he decided to shave his head and switch numbers from 8 to 24. Bryant is known to fans as "The Black Mamba". Kobe gave himself this nickname to match the black mamba snake, one that "strikes with 99% accuracy, maximum speed, and rapid succession." That is just what the Black Mamba does to Ben Wallace in the number 8 best dunk of all time. Just as the announcers state, he elevated up to the raptors for this slam.
7. Blake Embarrasses Pau… Twice.
If you're looking for someone to put on a dunking clinic during a game, look no further than Blake Griffin. The best part about these two dunks is they happened in the same game. He shocked everyone in the arena with these dunks, even Pau Gasol himself. Take a look at his face at (:36); whether he is waiting for a foul to be called or not, he looks bewildered and confused at what just happened to him.
6. The Reign Man
One of the most famous dunks in history and our number 6 best dunk of all time goes to none other than the Reign Man himself, Shawn Kemp. This dunk features poor Alton Lister, who was obviously trying to take the charge. Kemp used Lister as a ladder to climb halfway to the sky before he threw down.
5. GoodKnight
No need for an explanation, DeAndre Jordan's face says it all.
4. Vinsanity
This list would not be complete without a dunk from one of the best dunkers in the history of the NBA, Vince Carter. In this Olympic game against France, Carter leaps over a 7-footer for the slam. I'm sure the only words this French player has after being posterized is "Que s'est-il passé?"
3. King James
The world's best player in the game today, I present to you LeBron James. James is known for wowing the crowd on a daily basis, but this dunk is the epitome of talent. Up and over John Lucas like it was nothing; he makes playing basketball at a high level look so easy.
2. Air Jordan
Ask anyone old enough to remember Jordan in his prime where they were when he dunked on Patrick Ewing and they would be able to tell you. Fans remember this day like it was yesterday, and who wouldn't? The best part of all is the look Jordan gives Ewing after the play; it looks like he's telling Ewing, "you're going to remember this day."
1. Rock the Baby
And of course, the number one dunk of all time. This one goes out to the best dunker in history, Julius "Dr. J" Erving. Not only does he have the entire arena on their feet, he has anyone who watches this replay jumping up and down. Unbelievable.
There you have it, the top ten best dunks of all time. The most important take-away from this list is: if you see someone about to dunk on you, do not take the charge; get out of the way before you get posterized.
(Video Credit: Youtube)
(Photo Credit: The League)
Follow me on Twitter @laurapeters24