Demetrious Johnson Earns Knockout, Retains Flyweight Title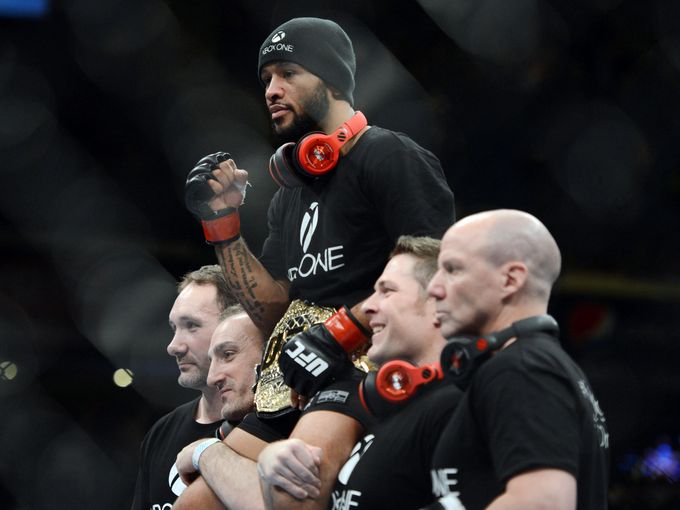 SACRAMENTO, Calif. — In the main event at the Sleep Train Arena in Sacramento, California on Fox, the UFC's only flyweight champion faced the man he defeated in the inaugural title fight in a highly anticipated rematch. Many thought that while current champion Demetrious Johnson had been a solid champion, his matchup with Joseph Benavidez Saturday night would be his toughest fight yet.
Considered one of the smaller favorites in the Vegas odds for his title fight, Johnson (19-2-1) left no doubt that he was the best flyweight in the UFC. Landing a vicious right hand to the head, Johnson defeated Benavidez (19-4) by first-round knockout, retaining his title for a third straight fight, and doing so in fashion not many expected.
Since he began fighting in the UFC, Johnson was not known as a fighter who finished many of his fights. Before tonight, he had only finished John Moraga in his last fight at UFC on Fox 8 in July by a late fifth-round armbar. Benavidez entered Saturday's fight with what was considered the power advantage in his striking, leading many to believe he would be the one that would finish the fight.
Instead, Johnson surprised many by earning his first knockout in his UFC career, and doing so in early, devastating fashion.
Around the two minute mark of the round, Benavidez and Johnson exchange some strikes, then a hard right hand hit the challenger square in the face and dropped him cold. Before referee John McCarthy could pull Johnson away, he pounced on the down Benavidez and landed a couple more blows to the head to cement the knockout.
The win marks a perfect 3-0 for Johnson in 2013, who has been the only champion in the UFC flyweight division since its inception in 2012. After fighting previously as a bantamweight in the UFC, Johnson did hint at looking towards super-fights down the road following his victory over Moraga in July. With his second straight dominant victory as the champion, along with the lack of depth shown so far in the flyweight division, the rumblings may continue for a super-fight down the road. For now, Johnson plans to continue training and improving his fight game, as he said in the post-fight press conference.
Follow Brandon Boles on Twitter: @BrandonBoles
Facebook.com/FullScaleSports
Twitter: @FullScaleSport
(Photo Credit: Kyle Terada/USA TODAY Sports)