Dan Henderson, Shogun Rua Rematch Set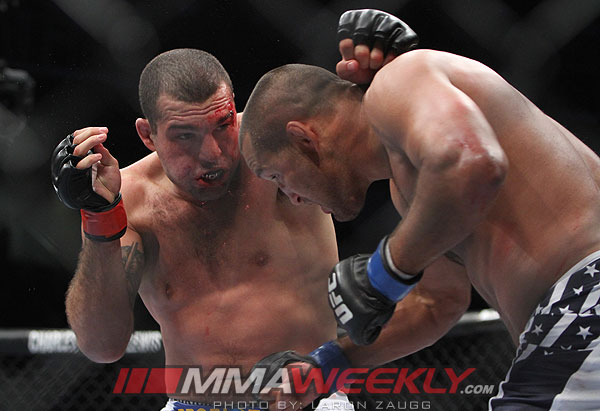 The UFC confirmed reports that light heavyweights Dan Henderson and Mauricio 'Shogun' Rua will face off in a highly anticipated rematch March 23. The fight will take place in Brazil and is scheduled to be the main event for UFC Fight Night 38.
Henderson and Rua first met as the headlining fight at UFC 139 in November 2011, a fight which Henderson won by unanimous decision. The fight was considered by many as the fight of the year in 2011 and is still considered one of the greatest MMA fights in history to this date.
Not only will both fighters meet for the highly anticipated rematch, but both will come in needing a victory in the octagon.
Rua is coming off his recent KO of James Te Huna at UFC Fight Night in Australia in December 2013, a win that succeeded two straight losses to Alexander Gustafsson and Chael Sonnen. The former UFC light heavyweight champion has gone 2-2 since his initial fight with Henderson. Currently the seventh ranked contender, a win over Henderson will move him in serious discussion for light heavyweight contention.
As for the former Strikeforce champion, Henderson maybe on his final push to become a champion in the UFC. At 43 and currently in a three-fight losing streak, he suffered being knocked out for the first time in his 40-fight career by Vitor Belfort at UFC Fight Night 32 in November 2013. Before his knockout loss, he lost by split decision to both Lyoto Machida and Rashad Evans. He has not won in the UFC since his first fight with Rua.
The UFC Fight Night event scheduled for March 23 with Henderson and Rua will mark a span of four straight weeks in March featuring a UFC event, and is currently scheduled as the second fight event to take place in Brazil so far in 2014.
Follow Brandon Boles on Twitter: @BrandonBoles
Facebook.com/FullScaleSports
Twitter: @FullScaleSport
(Photo Credit: Laron Zaugg/MMAWeekly.com)