Spano's Deception: The 1996 Sale of the New York Islanders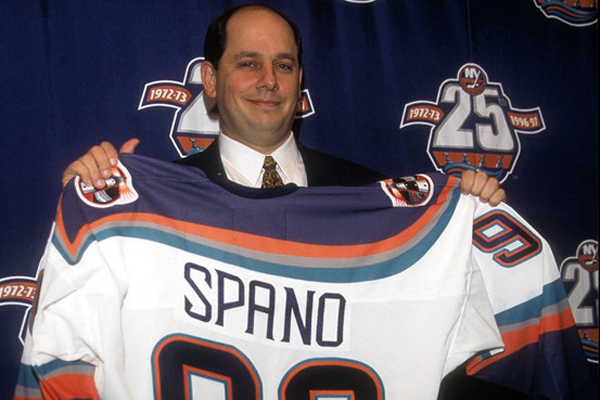 For a long the New York Islanders have been a mediocre franchise. Instead of keeping their young talent they like to trade it in order to acquire big names. For example they have traded Zdeno Chara, Roberto Luongo, and others and in return; no megastars.
Although these questionable moves were made nothing even remotely matches the events of John Spano and the 1996 Islanders.
John Spano was a succesful buisness man from New York who tried to buy the Dallas Stars, but due to lucrative demands was denied the sale. He then turned his attention to a team closer to home: the New York Islanders. John Pickett the owner of the New York Islanders was looking to sell the team to a innovative person who could bring success back to the island. He was approached by the aforementioned John Spano.
A deal was struck for 165 million, of which 80 was for the 90 percent stake in the company and the remainder for the lucrative TV contract for the Islanders. Spano provided paperwork that he had a personal wealth of 230 million and the deal was struck. Of which most was from the inheritance from his grandfather. Commissioner Gary Bettman and Pickett agreed that this was the man for the islanders and approved the sale.
Then the story begins to unravel.
John Spano constantly had the due dates for his payment to Pickett delayed. He stated the reason was that his money was in offshore accounts located in England and it took time to transfer. Numerous payments were coming in for a fraction of what they were meant to be and suspicion began to arise. Not to mention he applied and was granted an 80 million dollar loan from Fleet.
Then the newspapers and media began to inspect John Spano and started digging up the truth. He had no grandparent with an estate bigger than a quarter of a million dollars and his company annually produced 3 million. He also lied and over reported his wealth by 225 million. After this news was revealed the NHL suspended Spano's privileges pending an investigation. Spano being caught agreed to relinquish control of the Islanders if Pickett agreed not to sue over breach of contract. Soon after Spano was tried for frauud and convicted on two different occasions.
Such a bizarre story.
Photo credit to http://media.soletron.com/wp-content/uploads/2013/07/Spano.jpg
Follow Connor Coakley on Twitter @CCokes33
Facebook.com/FullScaleSports
Twitter:@FullScaleSport