34th Americas Cup: Down 8 races to 1, Oracle Team USA Completes Comeback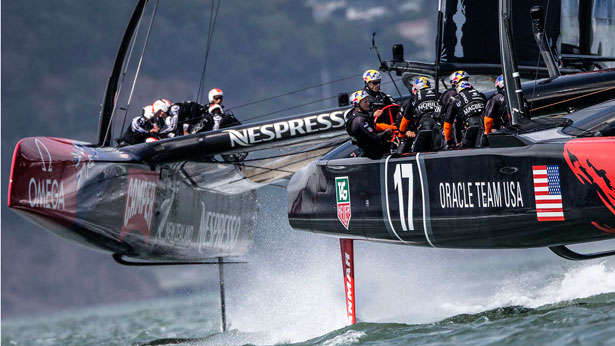 SAN FRANCISCO,CA Sailing is a sport not commonly known amongst most mainstream sport viewers. For those that do not know the America's Cup is the oldest trophy in international sport.  It involves two boats  This year the 34th one is occurring and it has a become a worldwide phenomenon. Big and crazy looking sailboats that go really fast that is the common response. Here is what they are. They are called catamarans because they have two hulls and they are each 72 feet long both unique and slightly different in design. Emirates Team New Zealand, the challenger, headed by skipper Dean Barker and Oracle Team USA, the defender, lead by skipper Jimmy Spithill of Australia have been battling it out the past couple of weeks and this Americas Cup has turned into possibly the best one ever.
With an 8-1 race lead over Oracle the Kiwi's from New Zealand only needed to win one more race to win the cup. All was set in stone for New Zealand right? Wrong the Americans have turned it around and have one seven straight races to complete the comeback and force a final day today at the Americas Cup. After Emirates New Zealand took a 4-0 race lead the Americans took advantage of an option within the rules to stop racing. This gave the Americans the rest of the day to focus and figure out how to make the boat faster. The team also announced a change of personnel that has help dramatically with their turn around. They swapped tactician John Kostecki for olympic gold medalist Ben Ainslie from Britain. Oracle was also docked two points before the start of the regatta because of infractions in the Louis Vuitton series
There have been many key points in the regatta that have helped Oracle get here. They had someone watching over them because they received a couple of huge breaks. In race 13 the Kiwi's looked as if they were going to take the cup on a very light day in the bay of San Fransisco and were saved when the race reached its time limit of 40 minutes. In race 17 there was plenty of drama at the start. The Americans had right away and New Zealand did not give them room causing the boats to collide and therefore resulting in two Emirates penalties which enabled the Americans to race out to a huge lead that they wouldn't relinquish. In race 18 it was the Kiwi's who won the start and were leading around the first two marks only to lose the lead to Oracle on the third leg. Oracle wouldn't look back as they ran away with that race as well to tie it up at 8-8.
Today marks the final day of this historic cup series. This has become worldwide and argubly the greatest comeback in all of sports. Oracle skipper Jimmy Spithill though knows that this isn't going to be handed to them and that they still have to earn it "It's not over — that's the key point here — we've got to finish it off," Spithill said. "There's this huge wave of momentum now that we've been riding for the past few days and it just builds and it builds and it builds and we're going to carry that into tomorrow."